---
Sarah's Book Store Staff Picks
---
"In R. O. Kwon's radiant debut novel, "The Incendiaries," her two central figures are the perpetrators, and victims, of the act of charm. They twist against the barbed wire of human connection in an isolating world. This is a dark, absorbing story of how first love can be as intoxicating and dangerous as religious fundamentalism.
Will and Phoebe meet during the still-sweaty first days of the college school year. Phoebe is a Korean-born, California-raised freshman of relative means whose evident sexual confidence ensnares the ex-born-again, working-class Will. Each of their narratives is told in the first person, interspersed with brief chapters about John Leal, a fanatical Christian cult leader whose grip over Phoebe grows in parallel with hers over Will.
The novel is about extremism, yes, but it's for anyone who's ever been captivated by another; for anyone who has been on either side of a relationship that clearly has a subject and object of obsession; for anyone who's had a brush with faith, or who's been fully bathed in its teachings; for anyone afraid of his or her own power."

Educated by Tara Westover
"Tara Westover was seventeen the first time she set foot in a classroom. Born to survivalists in the mountains of Idaho, she prepared for the end of the world by stockpiling home-canned peaches and sleeping with her "head-for-the-hills bag." In the summer she stewed herbs for her mother, a midwife and healer, and in the winter she salvaged in her father's junkyard. The family was so isolated from mainstream society that there was no one to ensure the children received an education, and no one to intervene when one of Tara's older brothers became violent. As a way out, Tara began to educate herself, learning enough mathematics and grammar to be admitted to Brigham Young University. Her quest for knowledge would transform her, taking her over oceans and across continents, to Harvard and to Cambridge. Only then would she wonder if she'd traveled too far, if there was still a way home. With the acute insight that distinguishes all great writers, Tara Westover has crafted a universal coming-of-age story that gets to the heart of what an education offers: the perspective to see one's life through new eyes, and the will to change it."
Insects walk on water, snakes slither, and fish swim. Animals move with astounding grace, speed, and versatility: how do they do it, and what can we learn from them? In How to Walk on Water and Climb up Walls, David Hu takes readers on an accessible, wondrous journey into the world of animal motion. From basement labs at MIT to the rain forests of Panama, Hu shows how animals have adapted and evolved to traverse their environments, taking advantage of physical laws with results that are startling and ingenious. In turn, the latest discoveries about animal mechanics are inspiring scientists to invent robots and devices that move with similar elegance and efficiency.
Hu follows scientists as they investigate a multitude of animal movements, from the undulations of sandfish and the way that dogs shake off water in fractions of a second to the seemingly crash-resistant characteristics of insect flight. Not limiting his exploration to individual organisms, Hu describes the ways animals enact swarm intelligence, such as when army ants cooperate and link their bodies to create bridges that span ravines. He also looks at what scientists learn from nature's unexpected feats―such as snakes that fly, mosquitoes that survive rainstorms, and dead fish that swim upstream. As researchers better understand such issues as energy, flexibility, and water repellency in animal movement, they are applying this knowledge to the development of cutting-edge technology.
Integrating biology, engineering, physics, and robotics, How to Walk on Water and Climb up Walls demystifies the remarkable mechanics behind animal locomotion.
---
Deanna's Book Store Staff Picks
---
The Sun Also Rises by Ernest Hemingway
This book is disillusionment and angst of the post-World War I generation, the novel talks discusses Jake Barnes and Lady Brett Ashley. The story follows the flamboyant Brett and the hapless Jake as they journey from the wild nightlife of 1920s Paris to the brutal bullfighting rings of Spain with a motley group of expatriates. It is an age of moral bankruptcy, spiritual dissolution, unrealized love, and vanishing illusions. I have fallen in love with Ernest Hemingway's writing and this has become one of my favorites.
Her Every Fear by Peter Swanson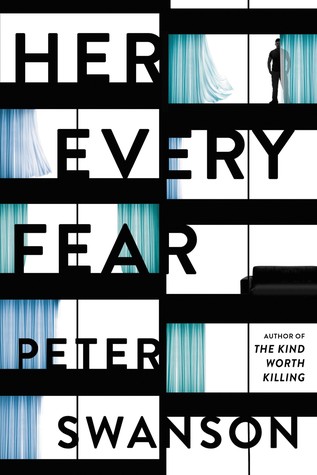 Kate Priddy was always a bit neurotic, experiencing momentary bouts of anxiety that exploded into full-blown panic attacks after an ex-boyfriend kidnapped her and nearly ended her life. When Corbin Dell, a distant cousin in Boston, suggests the two temporarily swap apartments, Kate, an art student in London, agrees, hoping that time away in a new place will help her overcome the recent wreckage of her life. Soon after her arrival at Corbin's grand apartment on Beacon Hill, Kate makes a shocking discovery: his next-door neighbor, a young woman named Audrey Marshall, has been murdered. When the police question her about Corbin, a shaken Kate has few answers, and many questions of her own—curiosity that intensifies when she meets Alan Cherney, a handsome, quiet tenant who lives across the courtyard, in the apartment facing Audrey's. Alan saw Corbin surreptitiously come and go from Audrey's place, yet he's denied knowing her. Then, Kate runs into a tearful man claiming to be the dead woman's old boyfriend, who insists Corbin did the deed the night that he left for London.
Peter Swanson has become one of my favorite mystery thriller authors this year. This is another one of of his books that you cannot put down!
---
Nannette's Book Store Staff Picks
---
Brave, Not Perfect by Reshma Saujani
As a big fan of You are a Badass, I am always ready for a book that pushes girls to be their best selves. In Brave, Not Perfect, Reshma Saujani uses her own experience and advice to let girls know they don't need to be perfect, they are already perfectly brave. This book is a necessity for the girls and women who need to hear a voice telling them that those worldly expectations have no hold on us.
What It Means When a Man Falls from the Sky by Lesley Nneka Arimah
I have read this book multiple times, and find a new bone-chilling detail each time. These short stories are artfully crafted by Arimah in a way that makes each and every character stick with you, from babies made of hair to a woman who can take the grief right out of bodies. Her creativity and horror put Stephen King to shame, and she explores human connections deeper than any family drama ever could. This is a quick read that you will never regret and never forget.
The Prince and the Dressmaker by Jen Wang
The Prince and the Dressmaker is the most wholesome and lovable graphic novel I have ever read. One of the main characters, Prince Sebastian, is constantly avoiding his parents' urges for him to find a wife. When the prince meets the dressmaker, he finally has an outlet for the part of his identity he has had to hide from his family. Throughout the bright and beautiful works of art on every page, the reader sees Prince Sebastian develop into the icon he was meant to be. If you are a fan of graphic novels that inevitably make you smile, you have to pick this one up.
---
Katlin's Book Store Staff Picks
---
The Raven Boys by Maggie Stiefvater
"Blue had forgotten how many times she had been told she would kill her true love." From the very first line, The Raven Boys had me hooked. The story follows Blue and four boys from the fancy academy in Henrietta, Virginia as they look for a long lost dead king. If the first line hadn't drawn me in immediately, the setting would have done that job instead. Henrietta is a small town that reminds me of our very own McDonough. The way the sticky summer air is described along with the residents of the historical town is enchanting. I devoured every book in this four book series in under a week. This YA series is a work of art in more ways than one and you'd be missing out if you didn't read the series before the show based on it premiered on Sy-Fy channel in the Fall.
Red Queen by Victoria Aveyard
In a world where the elite rule with an iron fist due to the powers infused in their Silver blood, when seventeen year old Red, Mare Barrow, falls into powers she shouldn't have, she begins playing a deadly game of intrigue for her lives and the lives of her family living in the slums. She's a mystery. she has red blood, so she shouldn't have the powerful ability that now sings through her veins. Will she be able to survive this deadly game she's been thrown into among the Silver royals? Mare is an intensely relatable teenager. I was on the edge of my seat with each chapter. I waited on this series for a while and once I began, I regret that decision. Don't make my mistake, pick up Red Queen today!
---
Abigail's Book Store Staff Picks
---
The Poet and the Vampyre by Andrew McConnell Stott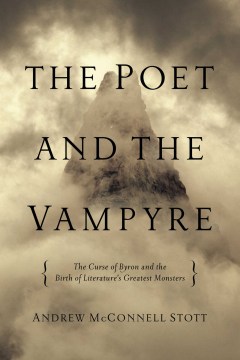 Following the exploits of infmaous Romantic Poet Lord Byron, historian Andrew McConnell Stott chronicals the adventures of the elite author group in the early 19th century that created our favorite monsters. Stott tells the story of poets Percy Bysshe Shelley and Lord Byron, as well as aspiring author Mary Shelley, and practicing physician John Polidori as they navigate the continent and their own tumultuous lives, building each narrative with moving personal notes and letters from the famed writers' own hands. Part literary adventure, part historical and culture expose, this nonfiction masterpice reads as effortlessly and thrillingly as any fiction novel.
Phasma by Delilah S. Dawson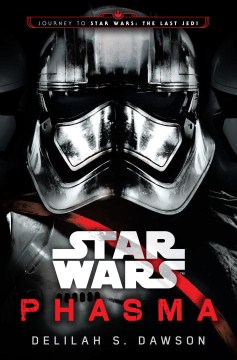 Telling the story of the new Star Wars triology's most mysterious and shiny villian, Phasma invites the reader on a high octane adventure of the making of the First Order's infamous Captain. Dawson crafts an emotional and harrowing adventure for the young Phasma, reminiscent of Mad Max, and 100% Star Wars. Born and raised on an isolated and forbidding planet, young Phasma, reknowned in her youth for being her tribe's most powerful warrior, sees a glittering ship crash land on her planet and undertakes an adventure to find out more about her own world and the wider galaxy than she ever imagined. Dawson is planned to release another Star Wars novel soon, which will reveal more about the new worlds being built in Disney's theme parks, so catch this one soon to meet the prospective heroine of the multi-verse's next adventure, Vi Moradi.