---
Book Store Staff Picks
---
---
Sarah's Bookstore Staff Picks
Fantasy:
"A fast-paced fantasy adventure that takes readers into a series of interconnected worlds ruled by magic—or the lack of it.
Long ago, the doors between worlds were open, and anyone with magic could travel from one to the next. Now the doors are closed, and only a chosen few have the power to travel between Grey London, a world without magic, Red London, a world suffused with it, and White London, a world where magic is scarce, coveted and jealously guarded. As for Black London, the city consumed, no one would be so foolish as to risk a trip—not even Kell. Officially, he's a royal messenger, carrying letters among the rulers of the three Londons. Unofficially, he's a smuggler who collects artifacts from other worlds. It's that habit that leads him to accept a dangerous relic, something that shouldn't exist. And it's when a wanted Grey London thief named Lila steals the artifact that the real trouble starts—for both of them. Schwab (Vicious, 2013, etc.) creates a memorable world—actually, three memorable worlds—and even more memorable characters. Lila in particular is a winningly unconventional heroine who, as she declares, would "rather die on an adventure than live standing still." The brisk plot makes this a page-turner that confronts darkness but is never overwhelmed by it." - Kirkus Review

Graphic Novel:
Trans teen Barney's new job solves one problem but creates a series of otherworldly challenges he did not see coming.
Barney's friend Norma, a girl of South Asian descent who avoids connecting with people, helps him get a job as a janitor at Dead End, a theme park haunted house. Barney assures Norma that everything is fine at home, but once the park closes he looks around for a place to sleep. Barney and his dog, Pugsley, find out the hard way that the elevator in Dead End doubles as a portal to hell. Demons, ghosts, and angels from other planes arrive throughout the story, each with an agenda. Together, Barney and Norma (assisted by Pugsley) fight various beings while dealing with their emotions in the human realm. Norma confronts her social anxiety with the help of hijabi friend Badyah Hassan, and Barney navigates a potential romantic relationship with Logan Nguyen. The art is imaginative and engaging, with rich, evocative color schemes. With time travel, demonic possession, monsters, magic spells, and fights between creatures of pure sadness and pure happiness, there is never a dull moment—but in the realm of human emotion, there are relatable ones. Readers who aren't dizzied by the action or put off by the multiple levels of destruction will be intrigued.
A wild ride. (Graphic novel. 13-18)- Kirkus Review
---
Amanda's Book Store Staff Picks
The Girl Who Drank the Moon by Kelly Barnhill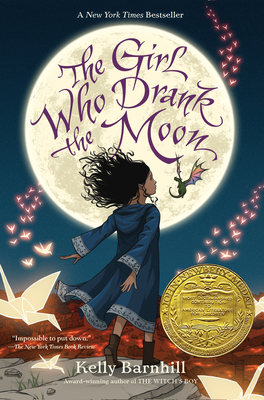 Every year, the people of the Protectorate leave a baby as an offering to the witch who lives in the forest. They hope this sacrifice will keep her from terrorizing their town. But the witch in the Forest, Xan, is kind. She shares her home with a wise Swamp Monster and a Perfectly Tiny Dragon. Xan rescues the children and delivers them to welcoming families on the other side of the forest, nourishing the babies with starlight on the journey.
One year, Xan accidentally feeds a baby moonlight instead of starlight, filling the ordinary child with extraordinary magic. Xan decides she must raise this girl, whom she calls Luna, as her own. As Luna's thirteenth birthday approaches, her magic begins to emerge--with dangerous consequences. Meanwhile, a young man from the Protectorate is determined to free his people by killing the witch. Deadly birds with uncertain intentions flock nearby. A volcano, quiet for centuries, rumbles just beneath the earth's surface. And the woman with the Tiger's heart is on the prowl . . .
The Good Neighbor: Life and Work of Fred Rogers by Maxwell King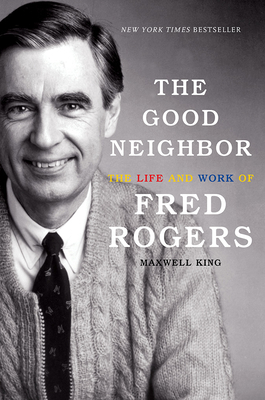 The Good Neighbor, the first full-length biography of Fred Rogers, tells the story of this utterly unique and enduring American icon. Drawing on original interviews, oral histories, and archival documents, Maxwell King traces Rogers's personal, professional, and artistic life through decades of work, including a surprising decision to walk away from the show to make television for adults, only to return to the neighborhood with increasingly sophisticated episodes, written in collaboration with experts on childhood development. An engaging story, rich in detail, The Good Neighbor is the definitive portrait of a beloved figure, cherished by multiple generations.
To Make Monsters out of Girls - Amanda Lovelace
The first installment of Amanda Lovelace's new poetry series, Things that H(a)unt. In To Make Monsters Out of Girls, Lovelace explores the memory of being in an abusive relationship. She poses the eternal question: Can you heal once you've been marked by a monster, or will the sun always sting? Fans of her other books, The Princess Saves Herself in this One and The Witch Doesn't Burn in this One will be very happy to hear her signature mix of surviving and thriving in spite of trauma and being pulled back into it.
---
Deanna's Book Store Staff Picks
---
Where the Crawdads Sing by Delia Owens
For years, rumors of the "Marsh Girl" have haunted Barkley Cove, a quiet town on the North Carolina coast. So in late 1969, when handsome Chase Andrews is found dead, the locals immediately suspect Kya Clark, the so-called Marsh Girl. But Kya is not what they say. Sensitive and intelligent, she has survived for years alone in the marsh that she calls home, finding friends in the gulls and lessons in the sand. Then the time comes when she yearns to be touched and loved. When two young men from town become intrigued by her wild beauty, Kya opens herself to a new life–until the unthinkable happens.
This book is Reese Witherspoon's book club pick for the month of September and I loved everything about it!! I loved the way it described the marshes and the country scenery. This book is memorable because it's about survival, hope, love, loss, loneliness, desperation, prejudice, determination and strength.
Scythe (Arc of a Scythe #1) by Neal Shusterman
Thou shalt kill. A world with no hunger, no disease, no war, no misery. Humanity has conquered all those things, and has even conquered eath. Now scythes are the only ones who can end life - and they are commanded to do so in order to keep the size of the population under control. Citra and Rowan are chose to apprentice to a sythe- a role neither wants.
I finished this book in two days. As someone who just recenty got back into reading YA this year, this book is so fascinating and a must read for everyone.
Her Every Fear by Peter Swanson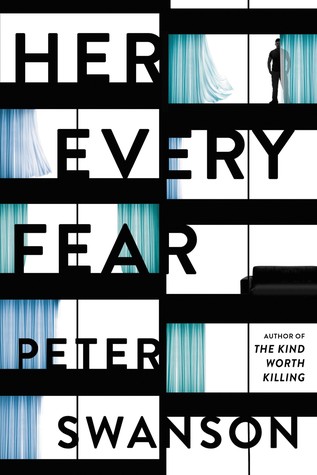 Kate Priddy was always a bit neurotic, experiencing momentary bouts of anxiety that exploded into full-blown panic attacks after an ex-boyfriend kidnapped her and nearly ended her life. When Corbin Dell, a distant cousin in Boston, suggests the two temporarily swap apartments, Kate, an art student in London, agrees, hoping that time away in a new place will help her overcome the recent wreckage of her life. Soon after her arrival at Corbin's grand apartment on Beacon Hill, Kate makes a shocking discovery: his next-door neighbor, a young woman named Audrey Marshall, has been murdered. When the police question her about Corbin, a shaken Kate has few answers, and many questions of her own—curiosity that intensifies when she meets Alan Cherney, a handsome, quiet tenant who lives across the courtyard, in the apartment facing Audrey's. Alan saw Corbin surreptitiously come and go from Audrey's place, yet he's denied knowing her. Then, Kate runs into a tearful man claiming to be the dead woman's old boyfriend, who insists Corbin did the deed the night that he left for London.
Peter Swanson has become one of my favorite mystery thriller authors this year. This is another one of of his books that you cannot put down!
---
Nannette's Book Store Staff Picks
---
Children of Blood and Bone by Tomi Adeyemi
After hearing Tomi Adeyemi speak in Decatur (and seeing her sign my book "To Queen Nannette..."), I knew this read would be unique, and I was right. The novel is over 500 pages long, but there is no time to relax. Zelie, the main character, is on a quest to save magic, the very same magic that led to the murder of her mother. By switching points of view regularly between nobles and "diviners," Adeyemi creates a multi-faceted story about empathy and power. Most stunning, however, was Adeyemi's author's note, tying the gory scenes of pain to police brutality in our own world. This science fiction YA novel goes beyond imagination to an empathy that is pure magic.
What It Means When a Man Falls from the Sky by Lesley Nneka Arimah
I have read this book multiple times, and find a new bone-chilling detail each time. These short stories are artfully crafted by Arimah in a way that makes each and every character stick with you, from babies made of hair to a woman who can take the grief right out of bodies. Her creativity and horror put Stephen King to shame, and she explores human connections deeper than any family drama ever could. This is a quick read that you will never regret and never forget.
The Prince and the Dressmaker by Jen Wang
The Prince and the Dressmaker is the most wholesome and lovable graphic novel I have ever read. One of the main characters, Prince Sebastian, is constantly avoiding his parents' urges for him to find a wife. When the prince meets the dressmaker, he finally has an outlet for the part of his identity he has had to hide from his family. Throughout the bright and beautiful works of art on every page, the reader sees Prince Sebastian develop into the icon he was meant to be. If you are a fan of graphic novels that inevitably make you smile, you have to pick this one up.