You are here
The Bright & the Pale (Hardcover)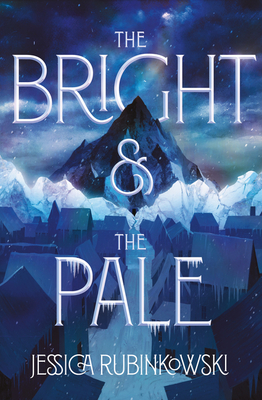 $17.99

Usually Ships in 1-5 Days
Staff Reviews
---
Valeria may have not been trapped by the mystical freeze that stole her family and village away but she never really escaped. She realizes this is true when she's blackmailed into returning with her best friend she thought  she'd lost the year before. In order to earn his freedom and her own, she must go back to the cursed village and hope to survive once more. 
This story was fantastic! Twisty and terrifying, I tore through it at a ridiculously fast pace. I can't wait for the next installment! 
— Katlin Kerrison
Description
---
Debut author Jessica Rubinkowski delivers the thrilling first book in an epic Russian folklore–inspired fantasy duology filled with page-turning romance, tragedy, magic, and monsters. Perfect for fans of Leigh Bardugo and Sara Raasch!
Seventeen-year-old Valeria is one of the only survivors of the freeze, a dark magical hold Knnot Mountain unleashed on her village. Everyone, including her family, is trapped in an unbreakable sheet of ice. Ever since, she's been on the run from the czar, who has set out to imprison anyone who managed to escape. Valeria finds refuge with the Thieves Guild, doing odd jobs with her best friend, Alik, the only piece of home she has left. That is, until he is brutally murdered.
A year later, she discovers Alik is alive and being held captive. To buy his freedom, she must lead a group of cutthroats and thieves on a perilous expedition to the very mountain that claimed her family. Only something sinister slumbers in the heart of Knnot. And it has waited years for release.
About the Author
---
Jessica Rubinkowski grew up on a farm in Illinois and now lives in Central Illinois with her family. The Bright & the Pale is her debut novel.
Praise For…
---
"Sparkling and sumptuous, Rubinkowski's adventurous debut crackles with tension and yearning. I was so transported into Strana's icy world, I saw my breath in the air as the pages flew by." — Erin A. Craig, New York Times bestselling author of House of Salt and Sorrows
"The Bright & the Pale is an action-packed adventure set in a richly detailed world where you never know who to trust and the twists keep coming! I was riveted right up until the final startling page." — Amy Ewing, New York Times bestselling author of The Jewel
"The icy atmosphere of this Russian-inflected debut novel is vividly rendered, and the briskly paced plot moves the story along through multiple twists, turns, and betrayals. An atmospheric series opener well suited for a cold winter's night." — Kirkus Reviews
"Debut author Rubinkowski paints a vivid picture of this mythological, Russia-esque land where fairy tales come to life and adventure rolls over every page. A riveting fantasy tale. Hand this to readers who enjoy Leigh Bardugo and are looking for a similar fantasy world to dive into." — School Library Journal
"Drawing inspiration from Russian folklore, Rubinkowski offers an atmospheric fantasy debut populated by engaging characters and fueled by a strong premise, with a cliffhanger setting up events for the sequel."
— Publishers Weekly
"Rubinkowski's Russian-inspired fantasy offers a fast, page-turning pace while offering a little bit of everything, expertly balancing elements of thriller, action, and romance. Readers will have a hard time putting this down." — Bulletin of the Center for Children's Books