You are here
Blood Scion (Hardcover)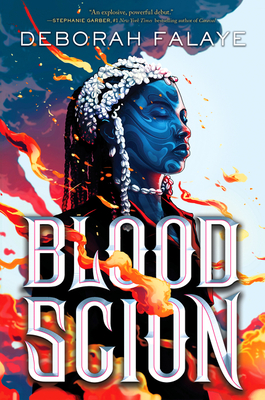 $18.99

Usually Ships in 1-5 Days
Description
---
"Equal parts soaring fantasy, heart-pounding action, and bloody social commentary, Blood Scion is a triumph of a book." —Roseanne A. Brown, New York Times bestselling author of A Song of Wraiths and Ruin
 This is what they deserve.
They wanted me to be a monster.
I will be the worst monster they ever created.
Fifteen-year-old Sloane can incinerate an enemy at will—she is a Scion, a descendant of the ancient Orisha gods.
Under the Lucis' brutal rule, her identity means her death if her powers are discovered. But when she is forcibly conscripted into the Lucis army on her fifteenth birthday, Sloane sees a new opportunity: to overcome the bloody challenges of Lucis training, and destroy them from within.
Following one girl's journey of magic, injustice, power, and revenge, Deborah Falaye's debut novel, inspired by Yoruba-Nigerian mythology, is a magnetic combination of Children of Blood and Bone and An Ember in the Ashes.
About the Author
---
Deborah Falaye is a Nigerian Canadian young adult author. She grew up in Lagos, Nigeria, where she spent her time devouring African Literature, pestering her grandma for folktales, and tricking her grandfather into watching Passions every night. When she's not writing about fierce Black girls with bad-ass magic, she can be found obsessing over all things reality TV. Deborah currently lives in Toronto with her husband and their partner-in-crime yorkie, Major. Blood Scion is her first novel.
Praise For…
---
"A compelling story of magic, survival and revenge, with a complex heroine at its center worth rooting for. An explosive, powerful debut." — Stephanie Garber, #1 New York Times & international bestselling author of the Caraval series and Once Upon A Broken Heart 
"Falaye expertly walks the line between showing the ultra-violent reality child soldiers face while giving room for their humanity and innocence to shine. Equal parts soaring fantasy, heart-pounding action, and bloody social commentary, Blood Scion is a triumph of a book." — Roseanne A. Brown, New York Times bestselling author of A Song of Wraiths and Ruin
"A thrilling debut fantasy! Falaye creates an intricately woven world that draws beautifully on Yoruba-Nigerian mythology, with a fast-paced, heart thumping plot that will have you rooting for Sloane and her friends to not only survive but get the justice they deserve! This story is full of heart, resilience, and magic that will pull you in from the very first page and have you thirsting for more by the end." — Kat Cho, international bestselling author of Wicked Fox and Vicious Spirits. 
"Blood Scion is a dark, masterful indictment of the casualties of self in the brutal fight for the right to exist. This unflinching masterpiece is twisty, raw, and impossible to put down. Fans of An Ember In The Ashes and The Hunger Games have found their next obsession." — J.Elle, New York Times bestselling author of Wings of Ebony.
"Brilliant and brutal, Blood Scion kept me up all night with its page turning action, complex characters, and shocking twists. Falaye is fearless, her prose addictive, and I'm dying for the sequel!" — Kristen Ciccarelli, internationally bestselling author of The Last Namsara
"This epic fantasy debut, inspired by Yoruba-Nigerian mythology, reminds readers that sometimes monsters are not born, they are made… fast-paced and engaging." — Booklist
"An epic tale of ancient magic based in Nigerian mythology... Falaye's harrowing duology opener of survival, sacrifice, and vengeance illustrates the effects of trauma and the strength of love in driving acts potentially heinous and heroic."  — Publishers Weekly
"An exciting fantasy infused with the magic of the Orisha pantheon… From its gritty social commentary on colonization and imperialism to its depiction of an unforgiving heroine, Blood Scion demands critical engagement from its readers."  — Quill & Quire
"Undoubtedly a 10/10. You'll want to have this on your shelf." — The Nerd Daily