You are here
The Prince of Nowhere (Hardcover)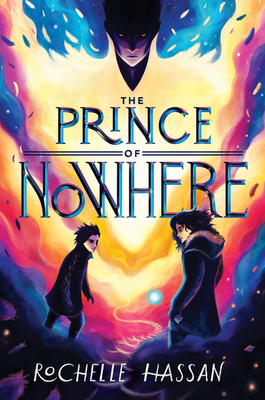 $16.99

Usually Ships in 1-5 Days
Staff Reviews
---
I finished this book in three days, and it did NOT feel like it took me that amount of time. It felt like time stood still as I read through the whole book, which I guess in kind of ironic, considering the book's themes. I thoroughly enjoyed this book. The characters were well written and captivating. The world was both mysterious and filled to the brim with lore. And the themes hit hard and were still realistic; I truly believed in every characters motivation and cause. I would happily read a sequel or prequel to this book, or even something entirely unrelated, if it was from this author. The way the world was described and the author's writing style was both unique and perfectly fitting for this book. A wonderful read, and I would gladly spend my time reading this book again!
— Mandolin Moore
Description
---
This sweeping middle grade fantasy debut by Rochelle Hassan follows Roda and Ignis, who embark on an adventure filled with magic and mystery—perfect for fans of Howl's Moving Castle by Diana Wynne Jones.
Roda isn't afraid of the monsters that roam the wilds of the Aerlands. She's safe in her small town, which is surrounded by a wall of freezing, enchanted mist that keeps the beasts away. So when Roda rescues an injured crow on the instruction of her secret pen pal, Anonymous—whose letters arrive without warning and correctly predict the future—she's surprised to learn she's brought one of the so-called monsters home. Because her crow is really a shape-shifting boy named Ignis.
Ignis doesn't remember where he was going before he crashed. But Anonymous brought him and Roda together for a reason—and the only way to find out what Anonymous wants is to follow the trail of baffling clues in Roda's letters. Their perilous journey leads them into the mist and beyond, to a mysterious place called Nowhere. But Ignis has secrets, and the farther they get, the more Roda doubts she can trust him.
As a nefarious force closes in, they'll have to put aside their differences and work together. For they might be each other's only defense against an enemy who threatens their past, present, and future.
A JUNIOR LIBRARY GUILD GOLD STANDARD SELECTION!
About the Author
---
Rochelle Hassan grew up reading about dragons, quests, and unlikely heroes; now she writes about them, too. The Prince of Nowhere is her first novel. She lives in New York. You can find her online at www.rochellehassan.com.
Praise For…
---
Hassan's visually rich and sure-handed prose, strong characters, realistic dialogue, and page-turning plotting offer a compelling adventure with a philosophical heart. A marvelous blend of fantasy and time-travel speculation with a seasoning of steampunk. — Kirkus Reviews (starred review)
Hassan's debut title is a wondrous and spellbinding adventure filled with many magical beings and memorable characters. The cinematic world building and pacing will enchant readers, and the multiple twists will leave them on the edge of their seats. — Booklist