You are here
These Fleeting Shadows (Hardcover)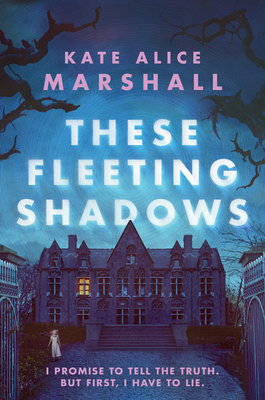 $18.99

Usually Ships in 1-5 Days
Description
---
The Haunting of Hill House meets Knives Out in a bid for an inheritance that will leave Helen Vaughan either rich...or dead.

Helen Vaughan doesn't know why she and her mother left their ancestral home at Harrowstone Hall, called Harrow, or why they haven't spoken to their extended family since. So when her grandfather dies, she's shocked to learn that he has left everything—the house, the grounds, and the money—to her. The inheritance comes with one condition: she must stay on the grounds of Harrow for one full year, or she'll be left with nothing.

There is more at stake than money. For as long as she can remember, Harrow has haunted Helen's dreams—and now those dreams have become a waking nightmare. Helen knows that if she is going to survive the year, she needs to uncover the secrets of Harrow. Why is the house built like a labyrinth? What is digging the holes that appear in the woods each night?And why does the house itself seem to be making her sick?

With each twisted revelation, Helen questions what she knows about Harrow, her family, and even herself. She no longer wonders if she wants to leave…but if she can.
About the Author
---
Kate Alice Marshall started writing before she could hold a pen properly, and never stopped. She lives in the Pacific Northwest with a chaotic menagerie of pets and family members, and ventures out in the summer to kayak and camp along Puget Sound. She is the author of the young adult novels I Am Still Alive, Rules for Vanishing, and Our Last Echoes, as well as the middle grade novels Thirteens and Brackenbeast. Visit her online at katemarshallbooks.com.
Praise For…
---
Praise for Kate Alice Marshall

These Fleeting Shadows

"Yes, we totally kept the lights on after reading this one."—E! News
 
"If you're a fan of spooky things, you'll adore this… I want—nay—I demand that These Fleeting Shadows be made into a streaming service Halloween-time horror movie."—Geek Girl Authority
 
"The genius of this book is how deftly the author winds together seeming disparate elements to form a cohesive whole... [A] strange and monstrously beautiful, uniquely inventive story."—The Nerd Daily

"This novel has great suspense paired with a winding plot that will make you question the chapters you previously read."—The Honey Pop
 
"Highly recommended for readers who love supernatural horror with a touch of mystery."—Booklist
 
"By turns bewildering, nightmarish, and heart-wrenching."—Kirkus Reviews
 
"Pulse-pounding… mystifying."—Publishers Weekly


Our Last Echoes:

"Fantastically immersive... Beautifully haunting and sure to keep readers up all night."—Kirkus
 
"A disturbingly imaginative tale that is both deeply human and truly terrifying."—Publishers Weekly
 
"Told in a series of prose chapters mixed with found documents and written confessions, this offers teen readers an engrossing journey that will appeal to fans of body horror and supernatural thrillers."—Booklist
 
"Marshall masterfully balances a building thrum of tension with perfectly timed jump scares."—BCCB

Rules for Vanishing

"This story is woven with eerie small town folklore, lost girls, and vengeful ghosts! I loved the documentary-style storytelling and I couldn't read it fast enough."—Shea Ernshaw, New York Times bestselling author of The Wicked Deep

"Rules for Vanishing will make you question what is real and what is illusion, and which option is more terrifying."—Caitlin Starling, author of The Luminous Dead

"Rules for Vanishing has all the prerequisites of a horror classic--stunningly original, delightfully dark, and simply terrifying. A tense and exhilarating read for those with or without a pulse."—Dana Mele, author of People Like Us

"Delightfully chilling! Marshall delivers riveting twists, gasp-out-loud surprises, and a series of truly haunting revelations right up to the final page in this irresistible mystery."—Natalie C. Parker, author of Seafire

* "In this chilling tale, Marshall ties together regional folklore, urban legends, and ghost stories to craft an exquisitely unsettling dark fantasy."­—Publishers Weekly, starred review

"Engrossing.... [Readers] will enjoy this mashup of The X-Files and the The Blair Witch Project."—Kirkus

"Marshall delivers a haunting tale about a childhood game that twists into a disturbing rescue mission."—SLJ

"Marshall keeps the twisty narrative intentionally murky, ensuring that readers, like Sara and her friends, may never find their way out."—Booklist

I Am Still Alive

"This tense wire of a novel thrums with suspense. . . . [this book] just might be the highlight of your summer."—The New York Times

"An expertly conceived plot plus a true heroine (and her dog) make for an original, engrossing, and twisty survival story that I tore through compulsively. You won't regret the hours that disappear when you read this one."—Nancy Werlin, National Book Award honoree and New York Times bestselling author
 
"I couldn't set this book down—the words actually made me  shiver. It's Hatchet meets The Revenant, infused with fierce, undaunted girl power."—S.A. Bodeen, award-winning author of The Raft

"If Hatchet was your favorite book in grade school, but you wish it was filled with much more girl power, then I Am Still Alive is the book you've been waiting for."—Bustle

"A gripping adventure."—The Wall Street Journal

* "A taut, gripping page-turner with a strong female hero to root for."—Kirkus, starred review

* "With masterful pacing, rich characterization, a dynamic voice, and a thrilling blend of wilderness survival and revenge, this is an engrossing read from a writer to watch."—Booklist, starred review

"A gripping tale of endurance and discovery of inner strength."—School Library Journal

"[A] striking first novel. Marshall's immersive descriptions will hook readers into this exhilarating survival story."—Publishers Weekly

"Marshall's thrilling tale is also a deeply moving story about coming to terms with imperfections (both in oneself and in others) and about finding true resourcefulness and inner strength."—BookPage