You are here
Dead Celebrity Cookbook Presents Christmas in Tinseltown: Celebrity Recipes and Hollywood Memories from Six Feet Under the Mistletoe (Paperback)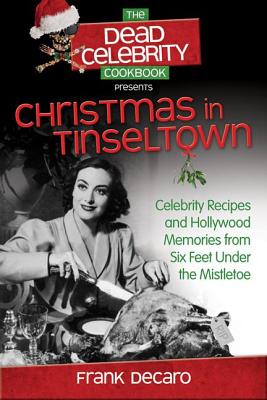 $16.95
Email or call for price
Description
---
Now you can put some gam in your holiday ham with The Dead Celebrity Christmas Cookbook. When it comes to holiday fun, the stars of Hollywood's Golden Age knew how to make merry - on stage, on screen, and especially on the dinner table. With The Dead Celebrity Christmas Cookbook - the follow-up to his international sensation The Dead Celebrity Cookbook - Frank DeCaro shows how to put the kitsch into your holiday kitchen as he salutes a quirky collection of celebrities who are gone, but fondly remembered every year at Christmastime.
Filled with pop culture ruminations and genuine (and genuinely delicious) recipes of the stars, The Dead Celebrity Christmas Cookbook hails such movie classics as It's a Wonderful Life and White Christmas, gives three cheers for such time-honored animated gems as Frosty the Snowman and How the Grinch Stole Christmas, and puts such offbeat offerings as The Star Wars Holiday Special in their rightful place - the dining room
Serving up such chapters as 'Miracle Whip on 34th Street, ' 'Eat Meat in St. Louis, ' and 'Munch of the Wooden Soldiers, ' DeCaro dishes up an attic-full of culinary delights garnished with his signature wit and cultural observations. Feast on such temptations as Peggy Lee's Holiday Halibut Casserole, Burl Ives's Stuffed Leg of Goat Hawaiian, Nat 'King' Cole's Ham Loaf, Barbara Stanwyck's Christmas Kipfels, Dinah Shore's Fruitcake, and Spike Jones's Molasses Jumbles. Even the Grinch himself - Boris Karloff - shares a recipe Wash them all down with Edmund Gwenn's Christmas Cup and John Lennon's Cocoa. With The Dead Celebrity Christmas Cookbook, you also can decide which makes for a better New Year's Eve, Guy Lombardo's Lobster Lombardo or Dick Clark's Spicy Turkey Meatloaf. There's nothing auld about them
The book is the ultimate hostess gift, and one that won't get buried in the cupboard. Placing the accent on mirth - and casting a forgiving eye toward Santa's girth - The Dead Celebrity Christmas Cookbook promises to get even the biggest Scrooge in the holiday spirit and liven up any gathering. It'll have you saying your 'ho, ho, ho's' in true Hollywood style, this year and for many years to come.