You are here
In the House of Wilderness: A Novel (Hardcover)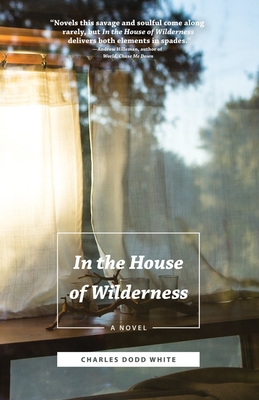 $26.95
Email or call for price
Description
---
Rain is a young woman under the influence of a charismatic drifter named Wolf and his other "wife," Winter. Through months of wandering homeless through the cities, small towns, and landscape of Appalachia, the trio have grown into a kind of desperate family, a family driven by exploitation and abuse. A family that Rain must escape.
When she meets Stratton Bryant, a widower living alone in an old east Tennessee farmhouse, Rain is given the chance to see a bigger world and find herself a place within it. But Wolf will not let her part easily. When he demands loyalty and obedience, the only way out is through an episode of violence that will leave everyone involved permanently damaged.
A harrowing story of choice and sacrifice, Charles Dodd White's In the House of Wilderness is a novel about the modern South and how we fight through hardship and grief to find a way home.
About the Author
---
Charles Dodd White is the author of four novels, including two from Swallow Press: How Fire Runs and In the House of Wilderness. He has received the Appalachian Book of the Year Award and the Chaffin Award for his fiction. He lives in Knoxville, Tennessee, where he is an associate professor of English at Pellissippi State Community College.
Praise For…
---
"Mesmerizing … White, who lives in East Tennessee, commands an unusual level of skill and depth when writing about his characters' relationship to the natural world.…The novel is superbly paced, its plot unfolding with mystery and suspense. From its brutal yet compassionate heart, In The House of Wilderness pulses forward with longing and danger."—Chapter 16

"In the House of Wilderness is a haunting exploration of love that alienates and the fragmentation that comes when you sacrifice pieces of yourself for the one you love."—North Carolina Literary Review

"Novels this savage and soulful come along rarely, but In the House of Wilderness delivers both elements in spades. This book rocked me to the core. With dazzling prose and mythical characters, especially Rain, Charles Dodd White has crafted a masterpiece."—Andrew Hilleman, author of World, Chase Me Down

"The story builds up like a finely-tuned thriller and yet White's trademark painterly prose—precise but elaborate, lyrical but never overwrought—gives the novel a dreamlike aura. These days in which taut, direct prose is considered the gold standard, and too many authors succumb to writing what Ben Lerner called 'very inefficient television,' In the House of Wilderness is a reminder of the many untapped possibilities of language when explored by a master craftsman."—Gonzalo Baeza, The Observer

"In the House of Wilderness may be Charles Dodd White's finest achievement to date. This is a story that at once moves and lingers, well paced but dripping with the language we've come to expect from his pen. Line for line, White is one of the most talented writers at work in the American South."—David Joy, Writer's Bone