You are here
My Very End of the Universe: Five Novellas-In-Flash and a Study of the Form (Paperback)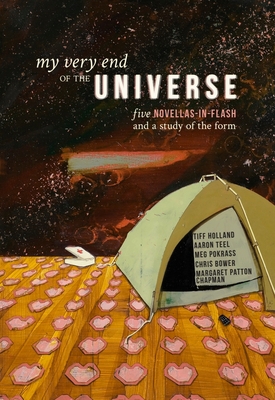 $15.95

Usually Ships in 1-5 Days
Description
---
Fiction. MY VERY END OF THE UNIVERSE is a celebration and study of an increasingly popular genre: the novella-in-flash, a novella built of standalone flash stories. The novellas in this collection--Betty Superman by Tiff Holland, Here, Where We Live by Meg Pokrass, Shampoo Horns by Aaron Teel, Bell and Bargain by Margaret Patton Chapman, and The Family Dogs by Chris Bower--are compact and specific, yet whole and universal, using the flexibility of the genre to offer a polyphony of setting and emotion. Accompanying each novella-in-flash is a craft essay by the author exploring the form's power, uses, and unique characteristics. The book opens with a genre-defining introduction to the novella-in-flash by editors Abigail Beckel and Kathleen Rooney, which also offers historical and contemporary context.

Chris Bower is a writer and teacher based in Chicago. He is the curator and host of the Ray's Tap Reading Series and a founding member of Found Objects Theatre Group. Little Boy Needs Ride, his book of short stories with illustrations by Susie Kirkwood, is forthcoming in 2015 from Curbside Splendor Publishing.

Margaret Patton Chapman received her MFA from The School of the Art Institute of Chicago. Her short fiction has appeared in Wigleaf, The Collagist, SmokeLong, Elimae, and in the anthology The Way We Sleep, among others. She is prose editor for decomP magazine, and currently lives in Durham, North Carolina.

Tiff Holland is originally from Ohio. She attended The Center for Writers at the University of Southern Mississippi. Her poetry, fiction, and creative nonfiction appear regularly in literary magazines and anthologies and have won several awards. Her novella-in-flash Betty Superman won the Rose Metal Press Fifth Annual Short Short Chapbook Contest in 2011. She has taught creative writing and literature at Kent State, University of Southern Mississippi, and Austin Community College. She currently lives in Hawaii.

Meg Pokrass is the author of Damn Sure Right (Press 53, 2011) and Bird Envy (Printed on Paige, 2014). Her flash fiction appears in 200 literary journals including Green Mountains Review, Five Points, storySouth, McSweeney's, and Flash Fiction International (W.W. Norton, 2015). Meg serves as associate editor for Rick Barthelme's New World Writing. She lives in San Francisco with a dog and two cats.

Aaron Teel hails from Austin, Texas, and is currently an MFA fiction fellow at Washington University in St. Louis. His work has appeared previously in Tin House, Smokelong Quarterly, Monkeybicycle, Brevity, and others. His novella- in-flash Shampoo Horns won the Rose Metal Press Sixth Annual Short Short Chapbook Contest in 2012.