You are here
Scarlet (The Lunar Chronicles #2) (Paperback)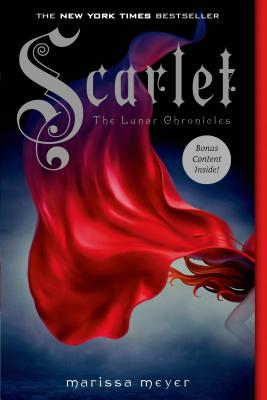 Other Books in Series
This is book number 2 in the The Lunar Chronicles series.
Spring '13 Kids List
---
"Cinder: Lunar Chronicles Book One introduced a wildly creative world and an unusual, highly satisfying update to classic fairy tale characters. Scarlet, the second book in the series, will sate fans' appetites for more. Scarlet and Wolf, a street fighter and her reluctant bodyguard, go on a mission to find Scarlet's grandmother, while Cinder's story picks up where the first book ended, with her escape from prison. The secrets and motivations that bring their stories together are unpredictable and prompt more questions than answers. I can't wait for the next book!"
— Rebecca Waesch, Joseph-Beth Booksellers, Cincinnati, OH
Description
---
The second book in the #1 New York Times- and USA Today- Bestselling Lunar Chronicles series by Marissa Meyer! Our cyborg heroine teams up with two new characters, Scarlet and Wolf, to defend Earth against a wicked space queen.

"An interesting mash up of fairy tales and sciencefiction . . . a cross between Cinderella, Terminator, and Star Wars."—Entertainment Weekly on the Lunar Chronicles

"Prince Charming among the cyborgs." —The Wall Street Journal on the Lunar Chronicles

Cinder is back and trying to break out of prison—even though she'll be the Commonwealth's most wanted fugitive if she does—in this second installment from Marissa Meyer.

Halfway around the world, Scarlet Benoit's grandmother is missing. It turns out there are many things Scarlet doesn't know about her grandmother, or the grave danger she has lived in her whole life. When Scarlet encounters Wolf, a street fighter who may have information as to her grandmother's whereabouts, she is loath to trust this stranger, but is inexplicably drawn to him, and he to her. As Scarlet and Wolf unravel one mystery, they encounter another when they meet Cinder. Now, all of them must stay one step ahead of the vicious Lunar Queen Levana.

The adventure continues in this fresh fairytale retelling that combines elements of Cinderella and Little Red Riding Hood.

An NPR Best Book of 2013

Don't miss these other books from #1 New York Times- and USA Today-Bestselling author Marissa Meyer:

The Lunar Chronicles:
Cinder
Scarlet
Cress
Winter
Stars Above
Fairest

The Lunar Chronicles Coloring Book

Wires and Nerve: Vol. 1
Wires and Nerve: Vol. 2

Renegades:
Renegades: Book One

Heartless

Praise for the Lunar Chronicles:

#1 New York Times-Bestselling Series
USA Today Bestseller
Publishers Weekly Bestseller

"Terrific." —Los Angeles Times

"Marissa Meyer rocks the fractured fairytalegenre." —The Seattle Times

"Epic awesome." —Bustle

"A binge-reading treat." —MTV

"Takes the classic to a whole new level." —NPR

"A great choice for all ages, with strong appeal for both girls and boys, these novels will be read and enjoyed—repeatedly." —VOYA, starred review on Scarlet

"It's another Marissa Meyer roller coaster ride, part science fiction/fantasy, part political machination with a hint of romance." —Booklist, starred review on Scarlet

"Returning fans of Meyer's Cinder will gladly sink their teeth into this ambitious, wholly satisfying sequel." —Publishers Weekly, starred review on Scarlet

"The author has stepped up the intrigue and plot from the first novel, and readers will be eagerly awaiting the next." —School Library Journal on Scarlet

"The sci-fi elements are stronger than the fairy-tale allusions this time out, but the story remains just as absorbing. . . . Readers will be thrilled to discover that this steampunky fairy-tale/sci-fi mashup promises two more installments." —BCCB on Scarlet

"Further development of this futuristic world plus plenty of action, surprises, and a fast pace will keep readers invested in their journey." —The Horn Book on Scarlet
About the Author
---
Marissa Meyer is the #1 New York Times–bestselling author of the Renegades Trilogy, The Lunar Chronicles series, the Wires and Nerve graphic novels, and The Lunar Chronicles Coloring Book. Her first standalone novel, Heartless, was also a #1 New York Times bestseller. Marissa created and hosts a podcast called The Happy Writer. She lives in Tacoma, Washington, with her husband and their two daughters.
Praise For…
---
Praise for the Lunar Chronicles:

#1 New York Times-Bestselling Series
USA Today Bestseller
Publishers Weekly Bestseller

"An interesting mash up of fairy tales and sciencefiction . . . a cross between Cinderella, Terminator, and Star Wars."—Entertainment Weekly

"Prince Charming among the cyborgs." —The Wall Street Journal


"Terrific." —Los Angeles Times

"Marissa Meyer rocks the fractured fairytalegenre." —The Seattle Times

"Epic awesome." —Bustle

"A binge-reading treat." —MTV

"Takes the classic to a whole new level." —NPR

"A great choice for all ages, with strong appeal for both girls and boys, these novels will be read and enjoyed—repeatedly." —VOYA, starred review on Scarlet

"It's another Marissa Meyer roller coaster ride, part science fiction/fantasy, part political machination with a hint of romance." —Booklist, starred review on Scarlet

"Returning fans of Meyer's Cinder will gladly sink their teeth into this ambitious, wholly satisfying sequel." —Publishers Weekly, starred review on Scarlet

"The author has stepped up the intrigue and plot from the first novel, and readers will be eagerly awaiting the next." —School Library Journal on Scarlet

"The sci-fi elements are stronger than the fairy-tale allusions this time out, but the story remains just as absorbing. . . . Readers will be thrilled to discover that this steampunky fairy-tale/sci-fi mashup promises two more installments." —BCCB on Scarlet

"Further development of this futuristic world plus plenty of action, surprises, and a fast pace will keep readers invested in their journey." —The Horn Book on Scarlet