You are here
The Baker and the Bard: A Cozy Fantasy Adventure (Hardcover)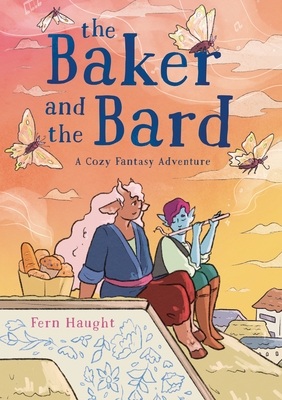 $25.99

Coming Soon - Available for Pre-Order Now
Description
---
Author-artist Fern Haught weaves an enchanting, gentle fantasy tale of friendship, determination, and respecting nature in their debut graphic novel, The Baker and the Bard. Perfect for fans of The Tea Dragon Society, Legends & Lattes, and Animal Crossing.

Juniper and Hadley have a good thing going in Larkspur, spending their respective days apprenticing at a little bakery and performing at the local inn. But when a stranger makes an unusual order at the bakery, the two friends (and Hadley's pet snake, Fern) set out on a journey to forage the magical mushrooms needed to make the requested galette pastries.

Along the way, Juniper and Hadley stumble across a mystery too compelling to ignore: Something has been coming out of the woods at night and eating the local farmers' crops, leaving only a trail of glowy goo behind. Intent on finally going on an adventure that could fuel their bardic craft, Hadley tows Juniper into the woods to investigate.

What started as a simple errand to pick mushrooms soon turns into a thrilling quest to save some furry new friends—and their caretaker, a softspoken little fey named Thistle—who are in danger of losing their home.
About the Author
---
Fern Haught is an author, illustrator, and adjunct professor based in Cleveland Heights, OH. They love crafting stories incorporating queer characters and their relationships, often set in magical worlds. Their two cats, Binx and Honey, are often looking over their shoulder while they work, and do a great job of being honorary co-authors. When they aren't creating books they decorate cookies at a local bakery and do background painting for games.
Praise For…
---
Praise for The Baker and the Bard:

"It's right there in the title—this graphic novel is gentle, thoughtful, and, well, cozy. ... Vivid colors, rounded lettering, and soft lines mirror the vibe of this world where it is clear that (mostly safe) adventures abound but home is always only a short distance away, and your bestie (and crush) is always nearby. ... This queer-friendly graphic novel about magic and the glory of nature, set in a world where everyone belongs, feels like a warm cup of tea on a rainy night, and the appended recipe for galettes would make an added treat (though mileage may vary on whether creminis are a valid substitute for magic)." —The Bulletin