You are here
Locust Lane: A Novel (Hardcover)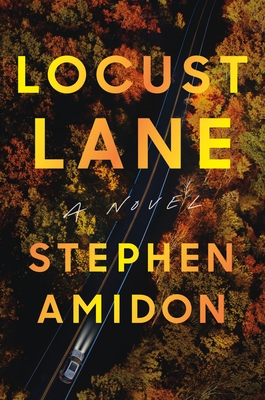 $28.00

Usually Ships in 1-5 Days
Description
---
"'Locust Lane' is as perceptive as it is compulsively readable."
—The Washington Post

For fans of Mystic River by Dennis Lehane and Little Fires Everywhere by Celeste Ng, Stephen Amidon's Locust Lane is a taut and utterly propulsive story about the search for justice and the fault lines of power and influence in a seemingly idyllic town. Can anyone be trusted?

On the surface, Emerson, Massachusetts, is just like any other affluent New England suburb. But when a young woman is found dead in the nicest part of town, the powerful neighbors close ranks to keep their families safe. In this searing novel, Eden Perry's death kicks off an investigation into the three teenagers who were partying with her that night, each a suspect. Hannah, a sweet girl with an unstable history. Jack, the popular kid with a mean streak. Christopher, an outsider desperate to fit in. Their parents, each with motivations of their own, only complicate the picture: they will do anything to protect their children, even at the others' expense.

With a brilliantly woven, intricately crafted plot that gathers momentum on every page, this is superb storytelling told in terse prose—a dynamic read that is both intensely gripping and deeply affecting.
About the Author
---
STEPHEN AMIDON was born in Chicago and grew up on the East Coast. He lived in London for twelve years before returning to the United States in 1999. He now lives in Massachusetts and Torino, Italy. His books have been published in sixteen countries and include two works of nonfiction, a collection of short stories, and seven novels, including Human Capital, adapted as a film directed by Marc Meyers in 2019, and Security, also adapted as a film and released by Netflix in summer 2021.
Praise For…
---
"A cool-headed, red-blooded novel of such ice-pick intelligence that you might find yourself wondering, as I did, when you last read a thriller this sophisticated. Like Lehane and Landay — like Harlan Coben, too, and Laura Dave in The Last Thing He Told Me, he detonates surprises with perfect timing.
—A.J. Finn, #1 New York Times bestselling author of The Woman in the Window

"Amidon's compulsively readable, richly plotted crime novel is a tour de force that grabs readers' attention and doesn't let go until the final page."
—Booklist, STARRED REVIEW

"Locust Lane is a thrilling, immersive read that will keep you guessing right until the end."
—The Spectator World

"Stephen Amidon's menacing mystery "Locust Lane" follows the moneyed families of a suburban town closing ranks when a murder threatens their futures.... Only one child has to go down for the crime, and each parent will do anything to ensure it's not theirs."
—PopSugar, "12 New Mystery Books That'll Have You on the Edge of Your Seat in 2023"

"[A] taut, twist-filled thriller."
—ENews

"Stephen Amidon's taut domestic thriller 'Locust Lane'... Everyone has a story, everyone has secrets, and all that enthusiastic page-turning created a refreshing breeze. Very satisfactory...."
—The Seattle Times

"'Locust Lane' is as perceptive as it is compulsively readable."
—The Washington Post

"Stephen Amidon has spent considerable time in London, so perhaps that's why he's so good at conjuring the nasty wittiness of a mid-century British novel (which is exactly the tone I want to find in a book about wealthy people behaving very, very badly)."
—CrimeReads, "The Most Anticipated Crime Fiction of 2023"

"This truly gripping novel, both a convoluted family drama and a suspenseful murder investigation, delivers intrigue and moral depth."
—Shelf Awareness

"As a bald faced examination of affluenza and the privileges wealth affords, Locust Lane is a highly realistic read, with an ending that will have readers ruefully wishing that we all lived in a better world."
—Criminal Element

"Stephen Amidon's LOCUST LANE is a suburban noir thriller that packs a gut punch."
—Deadly Pleasures Magazine

"A sharp portrait of class divisions and high-end dysfunction."
—New York Times Book Review