You are here
Everyday Angel: Three Novels (Paperback)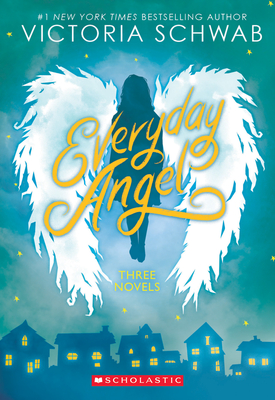 $14.99

Usually Ships in 1-5 Days
Description
---
From #1 New York Times bestselling author Victoria Schwab, three whimsical and enchanting novels about a quirky and clever guardian angel, and the girls she's sent to help, in one irresistible volume.
Aria Blue seems like an ordinary twelve-year-old. She loves music, and colorful shoelaces, and taste-testing various types of cookies. But there is much more to Aria than meets the eye. She can use her shadow like a door to travel from place to place. She can dream things into existence. And she can see when certain people need help.
Because Aria is a guardian angel. Her mission? To find and guide three different girls -- Gabby, Caroline, and Mikayla -- through their different problems. If she succeeds, Aria will earn her wings. But helping these girls is no easy feat, even for someone with magic powers. Things like friendship and family and well, life, are all a lot trickier than Aria might have guessed. Still, she's pretty sure she's up for the challenge . . .
Meet a magical girl like no other, from an author like no other, in this one-of-a-kind collection.
About the Author
---
Victoria Schwab is the #1 New York Times bestselling author of more than a dozen novels for readers of all ages, including City of Ghosts and Tunnel of Bones, Everyday Angel: Three Novels, the Shades of Magic series (which has been translated into over 15 languages), This Savage Song, and Our Dark Duet. Victoria can often be found haunting Paris streets and trudging up Scottish hillsides. Usually, she's tucked in the corner of a coffee shop, dreaming up stories. Visit her online at veschwab.com.
Praise For…
---
Praise for Everyday Angel #1: New Beginnings"Gabby's voice is authentic, and children who feel defined by a family member's illness will easily relate to her feelings . . . Despite the serious subject matter, there are moments of lightness, especially when Aria is narrating; her readers will welcome her future assignments to earn her wings." -- BooklistPraise for City of Ghosts:"Spine tingling and page-turning, perfectly blending humor, heart, and adventure . . . I loved it!" -- Jennifer A. Nielsen, New York Times bestselling author of The False Prince"This book has it all -- a ghost for a best friend, a city brimming with magic, and a brave girl discovering her strange power. A thrilling and chilling mystery that will have you counting the days until Cass's next adventure." -- Zoraida Cordova, author of the Brooklyn Brujas series* "This atmospheric ghost story from Schwab (the Monsters of Verity duology) chills and charms while challenging readers to face their fears. Courageous, quick-witted Cassidy inspires, her relationship with Jacob is tender, and the thrilling conclusion is sure to gratify." -- Publishers Weekly, starred review"Begs to be read in the dark of night." -- Kirkus Reviews"Schwab paints an eerie portrait of haunted locales and her descriptions of the various ghosts and their terrible ends will send shivers down even the bravest readers' spines . . . This fast-paced, spooky ghost story filled with international adventure is sure to please horror enthusiasts and armchair travelers." -- School Library Journal"Readers craving a spooky story that won't terrorize their dreams will do well with this. Genuine frights are offset by Cass' rapport with Jacob, which injects a steady stream of humor into the spirited, mysterious narrative. A polished, fast-paced read, sure to be popular . . . Schwab's YA fantasies are regularly best-sellers, and this has every reason to follow suit." -- Booklist"[A] fresh spin on ghost tales. [Schwab] evokes the real-world Edinburgh with plenty of vivid sensory detail, and imbues the Veil and its inhabitants with spine-tingling spookiness and melancholy. The humor and warmth of the protagonists' strong bond and the support and safety of Cass's and Lara's loving families nicely balance the suspense of this supernatural adventure." -- The Horn Book

Praise for Everyday Angel #1: New Beginnings"Gabby's voice is authentic, and children who feel defined by a family member's illness will easily relate to her feelings . . . Despite the serious subject matter, there are moments of lightness, especially when Aria is narrating; her readers will welcome her future assignments to earn her wings." -- BooklistPraise for City of Ghosts:"Spine tingling and page-turning, perfectly blending humor, heart, and adventure . . . I loved it!" -- Jennifer A. Nielsen, New York Times bestselling author of The False Prince"This book has it all -- a ghost for a best friend, a city brimming with magic, and a brave girl discovering her strange power. A thrilling and chilling mystery that will have you counting the days until Cass's next adventure." -- Zoraida Cordova, author of the Brooklyn Brujas series* "This atmospheric ghost story from Schwab (the Monsters of Verity duology) chills and charms while challenging readers to face their fears. Courageous, quick-witted Cassidy inspires, her relationship with Jacob is tender, and the thrilling conclusion is sure to gratify." -- Publishers Weekly, starred review"Begs to be read in the dark of night." -- Kirkus Reviews"Schwab paints an eerie portrait of haunted locales and her descriptions of the various ghosts and their terrible ends will send shivers down even the bravest readers' spines . . . This fast-paced, spooky ghost story filled with international adventure is sure to please horror enthusiasts and armchair travelers." -- School Library Journal"Readers craving a spooky story that won't terrorize their dreams will do well with this. Genuine frights are offset by Cass' rapport with Jacob, which injects a steady stream of humor into the spirited, mysterious narrative. A polished, fast-paced read, sure to be popular . . . Schwab's YA fantasies are regularly best-sellers, and this has every reason to follow suit." -- Booklist"[A] fresh spin on ghost tales. [Schwab] evokes the real-world Edinburgh with plenty of vivid sensory detail, and imbues the Veil and its inhabitants with spine-tingling spookiness and melancholy. The humor and warmth of the protagonists' strong bond and the support and safety of Cass's and Lara's loving families nicely balance the suspense of this supernatural adventure." -- The Horn Book