You are here
World of Warcraft: Vol'jin: Shadows of the Horde (Mass Market)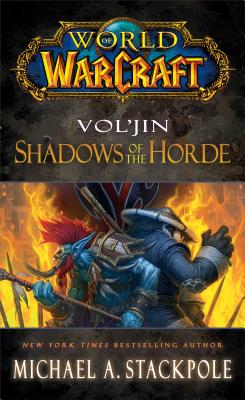 $8.99
Usually Ships in 1-5 Days
Description
---
A brand-new novel set in the universe of the record-breaking, internationally bestselling video game World of Warcraft!

War is coming.

Vol'jin, courageous leader of the Darkspear tribe: his strength and cunning are unmatched even among the Horde's most exalted champions. Now on the legendary continent of Pandaria, the troll chieftain faces his greatest trial yet, one that may redefine his purpose in the World of Warcraft.

Warchief Garrosh's assassins strike at Vol'jin, leaving him at death's door. But fate smiles on the wounded Darkspear leader when renowned brewmaster Chen Stormstout transports him to the safety of an isolated mountain monastery. There, Vol'jin wrestles with old hatreds smoldering between the Alliance and the Horde as he struggles to recover alongside a mysterious human soldier.

Yet this is only the beginning of Vol'jin's worries. Soon, he becomes embroiled in an invasion of Pandaria launched by the Zandalari, revered trolls driven by dreams of conquest and power. This ancient tribe offers Vol'jin a chance to seize the glory that is the birthright of all trolls . . . an offer made even more tempting after Garrosh's brazen treachery.

Amid these troubling events, Vol'jin is rocked by intense visions depicting his race's grand history. As he questions where his loyalties lie, he knows he must make a choice about his own destiny that could save his people or damn them to languish under Garrosh's heel in the Shadows of the Horde.
About the Author
---
Michael A. Stackpole is an award-winning novelist, game designer, computer game designer, podcaster, screenwriter, and graphic novelist. He's had more than forty-five novels published, the best known of those being the New York Times bestselling Star Wars books I, Jedi and Rogue Squadron. He has an asteroid named after him and, since undertaking to write Vol'jin: Shadows of the Horde, spends a lot of his spare time "leveling up!"