You are here
Behind Her Lives (Pseudo #1) (Paperback)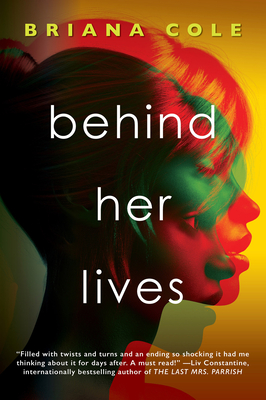 $16.95

Usually Ships in 1-5 Days
Other Books in Series
This is book number 1 in the Pseudo series.
Description
---
From bestselling author Briana Cole, an enthrallingly suspenseful new story of secrets, sibling rivalry, and a woman searching for a missing sister who may not want to be found. For fans of multicultural psychological thrillers and edgy dramas by Shanora Williams, Kiki Swinson, Saundra, Wahida Clark, Ashley & JaQuavis, Victoria Christopher Murray, and Shelly Ellis.

"A riveting one-sitting read! . . . A compelling thriller with layered and complex characters. Filled with twists and turns and an ending so shocking it had me thinking about it for days after. A must read!"
—Liv Constantine, internationally bestselling author of The Last Parrish

"That's not my sister." Overwhelmed by shock and relief, those are the only words Deven can muster when she is called to identify the body of a suicide victim. A body she was informed was her sister, Kennedy. But as she stares at the lifeless stranger, she's filled with questions: Who is this woman? Why was Deven listed as family? And most important, where is Kennedy? Her intuition tells her just one thing: this can't be a total coincidence.

Desperate to put the pieces together, Deven launches her own investigation. Soon, she finds herself tangled in a web of secrets and lies so twisted that it blurs the lines between fact and fiction. And between the sister she thought she knew and the one who seems to have many hidden, dangerous lives. But only Kennedy would have the answers to increasingly urgent questions. Just one possibility is clear: Kennedy isn't missing. Maybe she just doesn't want to be found. And maybe you can never truly know another person. Even your own sister.
About the Author
---
Briana Cole is an acclaimed author, motivational speaker, sex educator and actress. Her novels are known for exploring unconventional relationships and making readers question all expectations about love, lust, and monogamy. An Atlanta native, she graduated cum laude from Georgia Southern University and is a proud member of the Delta Sigma Theta Sorority. Her motto and ultimate drive toward success is a famous quote from Mae West: "You only live once, but if you do it right, once is enough." Connect with Briana online at BrianaCole.com, and on Facebook, Goodreads, Instagram, and Twitter @BColeAuthor.

Praise For…
---
Advance Praise for BEHIND HER LIVES
 
"Family dysfunction, twists galore, and an ending you won't see coming. A page-turner!" —Alex Finlay, best-selling author of Every Last Fear and The Night Shift
 
Praise for Briana Cole

"Downright devilish…There are enough twists and turns to this erotic suspense novel to cause whiplash, and the ending is as surprising as it is satisfying. Sensual and shocking, this is a surefire hit." —Publishers Weekly STARRED REVIEW for The Marriage Pass
 
"This sexy, smart new series takes unconventional relationships to a whole new level. Like The Wives byTarryn Fisher, but with a romantic twist." —PARADE on The Marriage Pass
 
"Lust, jealousy, betrayal, and desperation to survive drive this dramatic tale that will appeal to fans of contemporary multicultural romance authors De'Nesha Diamond, Victoria Christopher Murray, and Shelly Ellis." —Booklist on The Hearts We Burn
"Set in Atlanta, this sisterhood- and sex-fueled drama from Cole…is for those seeking a quick, easy escape laced with a bit of titillation." —Publishers Weekly on Couples Wanted
 
"Cole's latest is similar to novels by Victoria Christopher Murray and ReShonda Tate Billingsley, and will please readers who enjoy multicultural, suspenseful romance spiked with a dramatic edge of sin, sex, and betrayal." —Booklist on The Marriage Pass
 
"Briana Cole takes her characters through hell in this book. And this is just exactly what the readers will enjoy! Drama, drama, drama!" —Cydney Rax on The Wives We Play
 
"Thrilling, unique, and so addicting! Briana Cole brings a spin to a taboo lifestyle that had me hooked from the first page, and sitting on the edge of my seat, eager to find out what happens next. Debut or not, The Wives We Play is a fantastic, enthralling novel that should not be missed!" —Shanora Williams, New York Times bestselling author of Dear Mr. Black, on The Wives We Play
 
"Oh, this book was spicy and dramatic! This was my first read by Briana Cole but it won't be my last." —RAWSISTAZ on The Wives We Play