You are here
Run Me to Earth (Hardcover)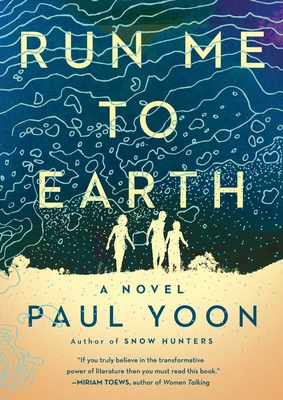 $26.00
Email or call for price
February 2020 Indie Next List
---
"This is Paul Yoon's best work yet. While this is also his most chaotic book, the power of his writing can still be found in the quiet moments, in gestures toward reconciliation, forgiveness, or at least resolution. This novel is stunning in its rendering of our capacity for both savagery and tenderness. Yoon is one of our great masters, and Run Me to Earth is a masterwork."
— Joseph Nieves, Changing Hands, Tempe, AZ
Description
---
From award-winning author Paul Yoon comes a beautiful, aching novel about three kids orphaned in 1960s Laos—and how their destinies are entwined across decades, anointed by Hernan Diaz as "one of those rare novels that stays with us to become a standard with which we measure other books."

Alisak, Prany, and Noi—three orphans united by devastating loss—must do what is necessary to survive the perilous landscape of 1960s Laos. When they take shelter in a bombed out field hospital, they meet Vang, a doctor dedicated to helping the wounded at all costs. Soon the teens are serving as motorcycle couriers, delicately navigating their bikes across the fields filled with unexploded bombs, beneath the indiscriminate barrage from the sky.

In a world where the landscape and the roads have turned into an ocean of bombs, we follow their grueling days of rescuing civilians and searching for medical supplies, until Vang secures their evacuation on the last helicopters leaving the country. It's a move with irrevocable consequences—and sets them on disparate and treacherous paths across the world.

Spanning decades and magically weaving together storylines laced with beauty and cruelty, Paul Yoon crafts a gorgeous story that is a breathtaking historical feat and a fierce study of the powers of hope, perseverance, and grace.
About the Author
---
Paul Yoon is the author of four previous works of fiction: Once the Shore, which was a New York Times Notable Book; Snow Hunters, which won the Young Lions Fiction Award; The Mountain, which was an NPR Best Book of the Year; and Run Me to Earth, which was one of Time magazine's Must-Read Books of 2020 and longlisted for the Andrew Carnegie Medal for Excellence in Fiction. A recipient of a Guggenheim Fellowship, he lives in the Hudson Valley, New York.
Praise For…
---
Time Magazine's Must-Read Books of 2020 | Named one of the Best or Notable Books of the Year by The Washington Post, NPR, Kirkus Reviews

"Richly layered....Throughout the novel, beauty and violence coexist in a universe that seems by turns cruel and wondrous....Yoon has stitched an intense meditation on the devastating nature of war and displacement."
— New York Times Book Review (Editor's Choice)

"Spellbinding....With his panoramic vision of the displacements of war, Yoon reminds us of the people never considered or accounted for in the halls of power."
— The Washington Post

"Yoon's greatest skill lies in crafting subtle moments that underline the strange and specific sadness inherent to trauma....As children around the world continue to grow up surrounded by violence and war, authors like Yoon seek to understand how experiencing those horrors shapes the adults they eventually become. And in Run Me to Earth, those horrors are scattered like unexploded bombs, waiting to go off at any time."
— Time Magazine

"[Yoon] writes with a soft, measured hand. He calmly builds memorable scenes even when events turn violent."
— Associated Press

"Yoon's artfully orchestrated narrative illuminates this loudest, harshest, most chaotic of situations with restraint and elegance, finding and tracing an emotional thread that weaves the story into the reader's heart...This unique work of historical fiction could not be more timely, or more timeless."
— Minneapolis Star Tribune

"If you truly believe in the transformative power of literature then you must read this book. Run Me to Earth is a genuine masterpiece; fierce, tender, wise, earth-shattering, pulsating with love and hope."
— MIRIAM TOEWS, author of Women Talking

"With Run Me to Earth, Paul Yoon proves, yet again, that he is a master at finding depth of emotion in formal restraint and discovering the timeless core in the most urgent issues of our day. This is one of those rare novels that stays with us to become, over the years, a standard with which we measure other books."
— HERNAN DIAZ, author of In the Distance, finalist for the Pulitzer Prize

"Run Me to Earth is filled with haunting imagery and heartbreaking moments of truth. Combined with Yoon's quiet, yet powerful writing style, each account builds on the previous one, slowly revealing new connections and insights that add on to the expanding connections of the initial characters."
— International Examiner

"Yoon again exemplifies his unparalleled ability to create a quietly spectacular narrative that reveals the unfathomable worst and unwavering best of humanity; the result here provides mesmerizing gratification."
— BOOKLIST (STARRED REVIEW)

"In another life, Yoon (The Mountain, 2017, etc.) might have been a sculptor, carving the excess off his creations until they're perfect. In this decades-spanning examination of the survival of three orphans with the bad luck to have been born into the ruins of a battlefield, he's stretching his abilities while still writing with deliberate, almost vigilant care... Yoon's imaginative prose and affection for his characters make the story larger than a look at the ways people survive... Another masterpiece in miniature about the unpredictable directions a life can take."
— KIRKUS REVIEWS (starred review)

"Yoon, ever the elegant and penetrating writer, coolly delivers a devastating sense of what it's like to be in the midst of war...Yoon (Snow Hunters), ever the elegant and penetrating writer, coolly delivers a devastating sense of what it's like to be in the midst of war."
— Library Journal (starred review)

"[A] sparely written gem… Yoon masterfully weaves their divergent story lines, unveiling the different trajectories of their lives… a finely wrought tale about courage and endurance."
—Publisher's Weekly

"Unquestionably beautiful."
— Michigan Daily

"This story of three Laotian orphans making their way through their war-torn world in the 1960s asks important questions about what it means to feel safe, and to call a place home."
— Vogue

"Run Me to Earth isn't trying to educate or do the work of scholars and teachers; it has its own agenda. Art cannot supplant history, but it can amplify it."
— The New Republic

"Run Me to Earth is a melancholy reminder that valor isn't limited to those who win medals on the battlefield, and that to many noncombatants, the question isn't who wins or loses, but whether one will survive the madness."
— Bookpage

"[Yoon's] stories and novels are small and perfect worlds, self-contained and reaching out toward infinity. He moves across geography and modes of human experience like a bee, gently probing for emotional truth....stunning and multilayered, built like a spiral"
— BOMB Magazine

"[A] gorgeous book about the bonds of friendship and the ruptures of war. Even more significantly, in telling the stories of a trio of Laotian teens, it inverts and reorients the American war story....Yoon is a master of subtle storytelling often leaving powerful emotions unexpressed, violent acts undetailed."
— Los Angeles Times

"Engrossing and luminous....Yoon crafts an exceptionally human and poignant story."
— Newsweek

"[Yoon] documents the silent trauma of war survivors with exquisite beauty, finely detailing the movements of the heart in the grip of violence, both interior and exterior. Run Me to Earth is the sort of narrative that is needed in our efforts to document the consequences of war, a necessary record of unspoken loss and unspoken mourning."
— Ploughshares

"Yoon has the ability to conjure up an entire world in a phrase."
—Asian Review of Books