You are here
Golden Hill: A Novel of Old New York (Paperback)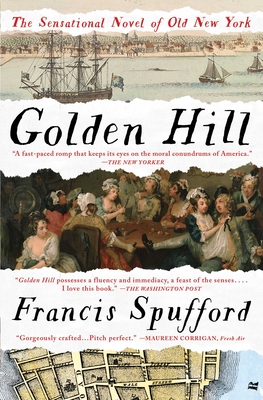 $18.00

Usually Ships in 1-5 Days
Summer 2018 Reading Group Indie Next List
---
"New York in 1746 is a frontier village just beginning to grow into its identity as the economic powerhouse of the American colonies. Spufford has created a lively cast of characters, those drawn to life on the very fringes of the known world. When a mysterious young man arrives from London with an outrageous line of credit, it immediately alerts the city folk. He is dangerous, but no one can figure out exactly how or why. Spufford masters the art of antique dialogue using language that's fresh but still perfectly of a time and place. The plot is quick-paced and the intrigue compelling. This is historical fiction at its finest."
— Kathi Kirby, Powell's Books, Portland, OR
Description
---
A Wall Street Journal Top Ten Fiction Book of 2017 * A Washington Post Notable Fiction Book of the Year * A Seattle Times Favorite Book of 2017 * An NPR Best Book of 2017 * A Kirkus Reviews Best Historical Fiction Book of the Year * A Library Journal Top Historical Fiction Book of the Year * Winner of the Costa First Novel Award, the RSL Ondaatje Prize, and the Desmond Elliott Prize * Winner of the New York City Book Award

"Gorgeously crafted…Spufford's sprawling recreation here is pitch perfect." —Maureen Corrigan, Fresh Air

"A fast-paced romp that keeps its eyes on the moral conundrums of America." —The New Yorker

"Delirious storytelling backfilled with this much intelligence is a rare and happy sight." —The New York Times

"Golden Hill possesses a fluency and immediacy, a feast of the senses…I love this book." —The Washington Post

The spectacular first novel from acclaimed nonfiction author Francis Spufford follows the adventures of a mysterious young man in mid-eighteenth century Manhattan, thirty years before the American Revolution.

New York, a small town on the tip of Manhattan island, 1746. One rainy evening in November, a handsome young stranger fresh off the boat arrives at a countinghouse door on Golden Hill Street: this is Mr. Smith, amiable, charming, yet strangely determined to keep suspicion shimmering. For in his pocket, he has what seems to be an order for a thousand pounds, a huge sum, and he won't explain why, or where he comes from, or what he is planning to do in the colonies that requires so much money. Should the New York merchants trust him? Should they risk their credit and refuse to pay? Should they befriend him, seduce him, arrest him; maybe even kill him?

Rich in language and historical perception, yet compulsively readable, Golden Hill is "a remarkable achievement—remarkable, especially, in its intelligent re-creation of the early years of what was to become America's greatest city" (The Wall Street Journal). Spufford paints an irresistible picture of a New York provokingly different from its later metropolitan self, but already entirely a place where a young man with a fast tongue can invent himself afresh, fall in love—and find a world of trouble. Golden Hill is "immensely pleasurable…Read it for Spufford's brilliant storytelling, pitch-perfect ear for dialogue, and gift for re-creating a vanished time" (New York Newsday).
About the Author
---
Francis Spufford began as the author of four highly praised books of nonfiction. His first book, I May Be Some Time, won the Writers' Guild Award for Best Nonfiction Book of 1996, the Banff Mountain Book Prize, and a Somerset Maugham Award. It was followed by The Child That Books Built, Backroom Boys, and most recently, Unapologetic. But with Red Plenty in 2012 he switched to the novel. Golden Hill won multiple literary prizes on both sides of the Atlantic; Light Perpetual was longlisted for the Booker Prize. In England he is a Fellow of both the Royal Society of Literature and the Royal Historical Society. He teaches writing at Goldsmiths College, University of London.
Praise For…
---
"Delirious storytelling backfilled with this much intelligence is a rare and happy sight…Spufford's resources are implausibly deep. As Samuel Taylor Coleridge said of Shakespeare, the fellow is myriad-minded." —Dwight Garner, The New York Times

"Francis Spufford has one of the most original minds in contemporary literature." —Nick Hornby

"One is drawn ineluctably into the world of colonial New York from the first sentence of Golden Hill. Wonderfully written and entertaining." —Kevin Baker

"Admirably eccentric… The boisterous plot is perfectly in keeping with its mid-18th century setting… This wonderful novel concludes with one further revelation, one that will make you reflect once again what a gloriously tricky fellow this Francis Spufford is." —Boston Globe

"Francis Spufford's fiction début is a fast-paced romp, but it keeps its eyes on the moral conundrums of America…[He is] an author capable of making any topic, however unlikely, at once fascinating and amusing. Golden Hill is both." —The New Yorker

"A virtuoso literary performance." —Booklist, starred review

"A successful homage to the great master of the picaresque novel, Henry Fielding." —Library Journal, starred review

"Recounting this picaresque rale with serious undertones, Spufford adeptly captures 18th-century commercial practices and linguistic peculiarities as well as pre-Revolutionary Manhattan's cultural hodgepodge…readers are rewarded with a feast of language, character, local color, and historical detail." —Publishers Weekly

"Addictively readable." —Mark Haddon

"Francis Spufford has long been one of my favourite writers of non-fiction; he is now becoming a favourite writer of fiction as well. Golden Hill is a meticulously crafted and brilliantly written novel that is both an affectionate homage to the 18th century novel and a taut and thoughtful tale." —Iain Pears

"I loved this book so much. Golden Hill wears its research with incredible insouciance and grace; a rollicking picaresque, it is threaded through with darkness but has a heart of gold."—Jo Baker

"Marvelous. A vivid re-creation of colonial New York, in which the adventures of Mr. Smith, who may be a charlatan or a hero, make for a page turner, with an unexpected and unusually satisfying ending." —C. J. Sansom

"Sparkling…A first-rate entertainment with a rich historical feel and some delightful twists." —Kirkus Reviews, starred review

"Golden Hill is a novel of gloriously capacious humanity, thick-woven with life in all its oddness and familiarity, a novel of such joy it leaves you beaming, and such seriousness that it asks to be read again and again ... this novel is verifiable gold." —Sunday Telegraph (UK)

"The intoxicating effect of Golden Hill is much more than an experiment in form. [Spufford] has created a complete world, employing his archivist skills to the great advantage of his novel ... This is a book born of patience, of knowledge accrued and distilled over decades, a style honed by practice. There are single scenes here more illuminating, more lovingly wrought, than entire books." —Financial Times (UK)

"Like a newly discovered novel by Henry Fielding with extra material by Martin Scorsese. Why it works so well is largely down to Spufford's superb re-creation of New York ... His writing crackles with energy and glee, and when Smith's secret is finally revealed it is hugely satisfying on every level. For its payoff alone Golden Hill deserves a big shiny star." —The Times (UK)

"Splendidly entertaining and ingenious ... Throughout Golden Hill, Spufford creates vivid, painterly scenes of street and salon life, yet one never feels as though a historical detail has been inserted just because he knew about it. Here is deep research worn refreshingly lightly ... a first-class period entertainment." —Guardian (UK)

"Paying tribute to writers such as Fielding, Francis Spufford's creation exudes a zesty, pin-sharp contemporaneity ... colonial New York takes palpable shape in his dazzlingly visual, pacy and cleverly plotted novel." —Daily Mail (UK)

"Golden Hill shows a level of showmanship and skill which seems more like a crowning achievement than a debut . [Spufford] brings his people and situations to life with glancing ease ... They all live and breathe with conviction ... His descriptive powers are amazing ... Spufford's extraordinary visual imagination and brilliant pacing seems to owe more to the movies than anything else." —Evening Standard (UK)

"The best 18th century novel since the 18th century." —BBC Radio 4

"The entire flavor, tone, and prose of the book make this an exceptional read whose pages practically flew by." —Historical Novel Society

"There's more life and variety in a single page of Francis Spufford's prose than there is in many full-length books." —Commonweal

"With Golden Hill, Spufford adds another genre to an already impressive résumé." —Christian Science Monitor

"Rich in authentic detail, energized by crackling dialogue, and flushed with lyrical grace…Golden Hill is a stunning evocation of a town before it boomed into a metropolis." —Minneapolis Star Tribune

"Golden Hill is a novel of place, and its richness of description and 18th century expression beggars the imagination. It is an extraordinary re-creation." —The Buffalo News

"An immensely pleasurable novel by British author Francis Spufford that will charm New Yorkers acquainted with their city's history and anyone who loves a well-told story…Read it for Spufford's brilliant storytelling, pitch-perfect ear for dialogue and gift for re-creating a vanished time." —Mary Ann Gwinn, Newsday