You are here
72 Reasons to Be Vegan: Why Plant-Based. Why Now. (Paperback)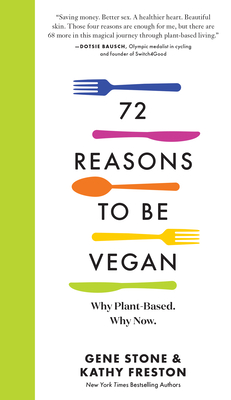 $14.95

Usually Ships in 1-5 Days
Description
---
 Better sex, glowing skin, and more money…by going vegan
 
Did you know that if you adopt a vegan diet you can enjoy better sex? Save money? Have glowing skin? You can ward off Alzheimer's, Type 2 diabetes, rheumatoid arthritis, and other metabolic diseases. You can eat delicious burgers. Help save the planet. Join the cool kids, like Gandhi, Tolstoy, Leonardo—and Kyrie Irving, Kat Von D, and Joaquin Phoenix. Oh, and did we mention have better sex? (It's about blood flow.)

Those are just some of the 72 reasons we should all be vegan, as compiled and persuasively argued by Gene Stone and Kathy Freston, two of the leading voices in the ever-growing movement to eat a plant-based diet. While plenty of books tell you how to go vegan, 72 Reasons to Be Vegan is the book that tells you why. And it does so in a way that emphasizes not what you'd be giving up, but what you'd be gaining.
 
"Bestselling vegan activist Kathy Freston and the movement's best chronicler, Gene Stone, team up to give us 72 reasons to go plant based (and better sex is just one of them!) A must-read for anyone concerned about the future of our planet, their own health, or the moral ramifications of meat-eating."
—Dan Buettner, National Geographic Fellow and author of The Blue Zones
About the Author
---
Gene Stone (genestone.com) is a former Peace Corps volunteer, journalist, and book, magazine, and newspaper editor, and is a New York Times bestselling author. He has written, co-written, or ghostwritten more than 45 books on a wide variety of subjects, but for the last decade he has concentrated on plant-based diets and their relationship to health, animal protection, and the environment. Among these books are Forks Over Knives, How Not to Die, Animalkind, The Engine 2 Diet, Living the Farm Sanctuary Life, Rescue Dogs, Mercy for Animals, and Eat for the Planet.
Kathy Freston
(kathyfreston.com) is a
New York Times
bestselling author of multiple health and wellness books, notably
The Lean
,
Quantum Wellness
, and
Clean Protein
. Her advocacy for a more healthy, sustainable, and just food system is inspired by her concern for human health as well as animal and environmental welfare. Kathy appears frequently on national TV, including
Ellen, Dr. Oz, Good Morning America, The Talk, Extra,
and
Oprah,
and her work has been featured in
Vanity Fair, Harper's Bazaar, Self, W, Fitness,
and
The Huffington Post
. Kathy enjoys hiking and biking, will travel almost anywhere for a good plant-based meal, and is obsessed with her adopted mutt, Trixie.
Praise For…
---
"Gene Stone and Kathy Freston put forth a persuasive argument for a plant-based lifestyle" —​USA Today 

"Saving money. Better sex. A healthier heart. Beautiful skin. Those four reasons are enough for me, but there are 68 more in this magical journey through plant-based living." —DOTSIE BAUSCH, Olympic medalist in cycling and founder of Switch4Good 

"Through outstanding writing and research, Stone and Freston have made eating plant-based thoroughly compelling and enjoyable; read this book and get ready for some seriously positive changes." —MICHAEL GREGER, author of How Not to Die and founder of NutritionFacts.org 

"There are so many reasons why people are choosing to leave animals off their plates, from saving the planet and helping animals to improving health and boosting athletic performance. 72 Reasons to Be Vegan—equal parts inspiring, eye-opening, fun, and informative—explores all these benefits and many more." —NEAL D. BARNARD, MD, FACC, founding president of the Physicians Committee for Responsible Medicine and author of Your Body in Balance 

"If you've ever wondered how to convince someone to become vegan, here's all the evidence and support you'll ever need in one well-written, easy-to-read book."  —GENE BAUR, cofounder of Farm Sanctuary 

"I started on my plant-based journey for health reasons, but this excellent book makes it clear that there are so many other important reasons. Absolutely a must-read for all!" —ERIC ADAMS, former New York State Senator and author of Healthy at Last 
"Just the right inspiration for anyone seeking smart, positively impactful life." —BRIAN WENDEL, choices founder of Forks Over Knives 
"Stone and Freston have brilliantly researched the most compelling reasons to be vegan, and they've made it a thoroughly enjoyable read!" —INGRID NEWKIRK,  president and cofounder of PETA 

"A symphony of chapters which are succinct, cogent, and precise and define the nutritional literacy that is essential for long, healthy lives and a forgiving planet." —CALDWELL B. ESSELSTYN, JR., M.D., author of Prevent and Reverse Heart Disease 
"Gene Stone and Kathy Freston put forth a persuasive argument for a plant-based lifestyle" —​USA Today 

"Saving money. Better sex. A healthier heart. Beautiful skin. Those four reasons are enough for me, but there are 68 more in this magical journey through plant-based living." —DOTSIE BAUSCH, Olympic medalist in cycling and founder of Switch4Good 

"Through outstanding writing and research, Stone and Freston have made eating plant-based thoroughly compelling and enjoyable; read this book and get ready for some seriously positive changes." —MICHAEL GREGER, author of How Not to Die and founder of NutritionFacts.org 

"There are so many reasons why people are choosing to leave animals off their plates, from saving the planet and helping animals to improving health and boosting athletic performance. 72 Reasons to Be Vegan—equal parts inspiring, eye-opening, fun, and informative—explores all these benefits and many more." —NEAL D. BARNARD, MD, FACC, founding president of the Physicians Committee for Responsible Medicine and author of Your Body in Balance 

"If you've ever wondered how to convince someone to become vegan, here's all the evidence and support you'll ever need in one well-written, easy-to-read book."  —GENE BAUR, cofounder of Farm Sanctuary 

"I started on my plant-based journey for health reasons, but this excellent book makes it clear that there are so many other important reasons. Absolutely a must-read for all!" —ERIC ADAMS, former New York State Senator and author of Healthy at Last 
"Just the right inspiration for anyone seeking smart, positively impactful life." —BRIAN WENDEL, choices founder of Forks Over Knives 
"Stone and Freston have brilliantly researched the most compelling reasons to be vegan, and they've made it a thoroughly enjoyable read!" —INGRID NEWKIRK,  president and cofounder of PETA 

"A symphony of chapters which are succinct, cogent, and precise and define the nutritional literacy that is essential for long, healthy lives and a forgiving planet." —CALDWELL B. ESSELSTYN, JR., M.D., author of Prevent and Reverse Heart Disease