You are here
An Ambush of Widows (Hardcover)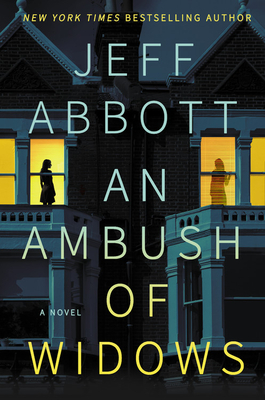 $28.00

Usually Ships in 1-5 Days
Description
---
In New York Times bestselling author Jeff Abbott's latest novel of riveting psychological suspense, an uneasy alliance forms as two widows delve into their husbands' deadly and dangerous secrets—as they try to protect their own.

Henry North is a down-on-his-luck cybersecurity expert from New Orleans. Adam Zhang is the cofounder of one of Austin's most successful venture capitalist firms. These two men didn't know each other. They had never met. Yet they died together, violently, in a place neither had any business being.

When Henry doesn't return from a business trip, his wife, Kirsten, panics—and then gets an anonymous phone call: "Your husband is dead in Austin."

Flora Zhang knew her husband was keeping secrets. She suspected an affair, but she had decided she could forgive him for his weakness—until her husband ended up dead. And with no explanation for her husband's murder, the police begin to suspect her.

Together, these two widows will face a powerful foe determined to write a false narrative about the murders. In doing so, neither Flora nor Kirsten will remain the women the world thought they were.
About the Author
---
Jeff Abbott is the New York Times bestselling author of nineteen novels. He is the winner of an International Thriller Writers Award (for the Sam Capra thriller The Last Minute) and is a three-time nominee for the Edgar Award. A former President of Mystery Writers of America, he lives in Austin with his family. You can visit his website at JeffAbbott.com.
Praise For…
---
PRAISE FOR NEVER ASK ME:
"Abbott writes in an authoritative way about the protocols, many of them maddening, of adopting a child. He also has a real understanding of the emotional roller-coaster couples going through the process must endure."
—New York Times Book Review

"No one exposes the dark, fraught underbelly of suburban America quite like Abbott, and his propulsive latest, depicting the relationships between families tied together via an overseas-adoption process, is a proper humdinger."—p.p1 {margin: 0.0px 0.0px 0.0px 0.0px; font: 12.0px Times}Boston Globe

"Cunning and complex."—Publishers Weekly

"[A] suspenseful novel by a master of the psychological thriller."—p.p1 {margin: 0.0px 0.0px 0.0px 0.0px; font: 12.0px Times}Booklist

"NEVER ASK ME produces almost unbearable tension and suspense. . . Readers will be kept guessing all the way to the end and most assuredly will be flipping back to some of the previous journal entries [to predict] the future events that Abbott deftly lays out for us as only he can."—p.p1 {margin: 0.0px 0.0px 0.0px 0.0px; font: 12.0px Times; color: #333333}Book Reporter

PRAISE FOR JEFF ABBOTT:

"Abbott uses his skills as a master storyteller to convey a complicated and ambitious tale that seems straightforward but is full of twists and red herrings. He also keeps the story moving without falling into clichés or over-the-top revelations. The mystery works because of the terrific characters and the beautiful road map he unveils while navigating the reader through a complex landscape. Those who enjoy unpredictable stories can never go wrong diving into the world of Jeff Abbott."—Washington Post

"Like a stage magician, Abbott often seems to be doing one thing when he's actually doing something else, and when we realize what he's been up to, we can't help but shake our heads in admiration."—Booklist

"Abbott is a master of misdirection."—Library Journal