You are here
Vegan Holiday Cooking: 60 Meatless, Dairy-Free Recipes Full of Festive Flavors (Paperback)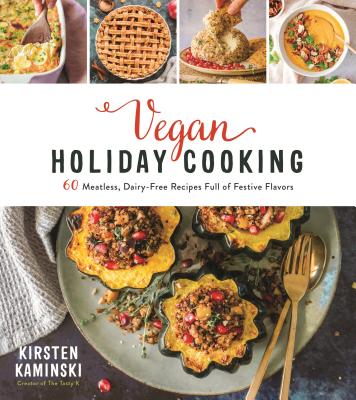 $21.99
Email or call for price
Description
---
Scrumptious Plant-Based Recipes Full of Nostalgic Holiday Holiday Flavors

Never miss out at a holiday feast again! Kirsten Kaminski, founder of The Tasty K, provides all the recipes you need to transform your meat-based holiday staples into satisfying vegan options. Swap out fatty ham for an irresistible Mushroom Wellington with Gravy. Capture all the flavors of traditional stuffing in the even-better Roasted Acorn Squash with Quinoa Stuffing. And no one will miss store-bought desserts once you have a homemade Cinnamon Apple Pie on the table. Kirsten makes each celebration delightful with 60 exciting appetizers, entrées and sides. With hearty, satisfying dishes such as Mushroom Bourguignon, Miso-Tofu Meatballs and Dijon Scalloped Potatoes to replace all the old meat-heavy, dairy-filled fare, you can feel the holiday spirit any time of year.
About the Author
---
Kirsten Kaminski is the founder of the vegan cooking blog, The Tasty K. Her recipes have been featured in Thrive magazine, Best of Vegan and feedfeed. She lives in Berlin, Germany.
Praise For…
---
"Finally a cookbook that honors the compassionate and heartfelt meanings behind what these holidays represent. Now when we sit for holiday dinners with friends and family, we will finally, unanimously have the best dish on the table."
Kip Andersen, award-winning director of Cowspiracy and What The Health?


"Forget what you think you know about vegan food, these delicious and satisfying recipes are going to blow you away!"
James Aspey, animal rights activist/speaker


"These delicious, colorful and mouth-watering holiday dishes will bring both vegans and non-vegans running to the table."
Dustin Watten, Team USA and World Cup Champion


"Kirsten is the queen of combining the spirit of traditional comfort foods with plant-based ingredients without ever sacrificing taste or visual appeal."
Kim Julie Hansen, founder of Best of Vegan and author of Vegan Reset


"Hands down, a MUST-HAVE for the holidays!"
Tia Blanco, professional surfer


"No matter what your dietary stripes, Kirsten's incredible vegan spins on classic favorites and innovative plant-based creations will make you voracious for vegetables."
Tess Masters, author of The Blender Girl, The Blender Girl Smoothies, and The Perfect Blend


"Kirsten's recipes are proof that eating vegan and healthy doesn't mean just salad! This book is a must for the holidays and should be a staple in everyone's house."
Remy Parks, blogger at Veggiekins


"This book is filled with absolutely drool-worthy vegan holiday recipes that'll leave everyone happy at the table! This is an amazing resource for anyone who wants to learn how to make delicious vegan holiday meals without meat!"
Jean-Philippe Cyr, vegan chef and founder of The Buddhist Chef


"This is a must-have for anyone who loves food and holidays (basically everyone). The recipes are nostalgic, wholesome, and positively scrumptious."
Megan Sadd, creator of Carrots & Flowers and author of 30-Minute Vegan Dinners


"Kirsten pours her heart and soul into every recipe. They are clever, imaginative and flavorsome, yet incredibly simple to make."
Christina Leopold, blogger at Addicted to Dates


"These are holiday favorites we all nostalgically love mixed with creative soon-to-be favorites, but with a healthier vegan take. This book is a fantastic recipe resource for anyone, any time of year!"
Natalie Thomas, blogger at Feasting on Fruit