You are here
The Complete Pressure Canning Guide for Beginners: Over 250 Easy and Delicious Canning Fruit, Vegetables, Meats Recipes in a Jar, and More (Hardcover)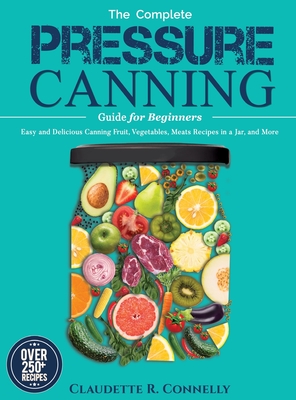 $23.99

Usually Ships in 1-5 Days
Description
---
Are you curious about pressure canning in order to preserve foods in your own kitchen or possibly you wish to try new pressure canning recipes? Are you interested in both sweet and savory canned foods? If your answer is yes, this book will be helpful to you.
Throughout the course of this book, you'll learn everything you need to know, from how canning works to what pressure cans should be used.You'll also learn many details about using the right foods and ways to get the most out of your canning experience.By the end of this book, you'll have everything you need to start canning and fill your kitchen with pickled, delicious, and nutritious food.
The Complete Pressure Canning Guide delivers everything you need to confidently achieve pressure canning perfection. With it you will discover the ease of pressure canning, understand the science behind safe food preservation, and enjoy 250 delicious recipes for stocking your kitchen and feeding your family.
In this Complete Pressure Canning Guide you will find:
Y An overview of pressure canning basics, including pressure canning prerequisites and guidance on purchasing pressure canner
Y More than 250 pressure canning yummy recipes for safely canning:
Fruit and Pie Filling
Vegetables and Beans
Pickles
Soups and Stews
Meat and Poultry
Jam, Jelly, Marmalade and Preserves
Conserves, Butters, Cheeses and Curds
Syrups, Sauces and Condiments
Salsas, Relishes and Chutneys
Y Pressure canning charts for safely canning vegetables and meats that include quantity, jar size, processing time, and PSI gauge guidance
Ready to master pressure canning like a seasoned chef? Then hit the "BUY NOW" button now