You are here
Crown of Bones (The Amassia Series #1) (Hardcover)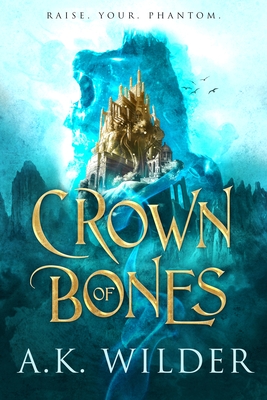 $18.99

Usually Ships in 1-5 Days
Other Books in Series
This is book number 1 in the The Amassia Series series.
Staff Reviews
---
A. K. Wilder creates a delightful world of savants and phantoms, creatures made to serve those who call them. Ash is a non savant that somehow gets the attention of phantoms that aren't even supposed to acknowledge her when she doesn't have a phantom of her own. Marcus is the Heir to the throne she serves and follows to the mysterious island of Aku when he is to tame his own powerful phantom. Kaylin is the guide with his own secrets to get them there. 
I throughly enjoyed this book. It's an arc, so there were some minor typos that took me a bit jarringly out of the story, but I'm sure those will be fixed in the final copy. While the story itself is fascinating and exciting, I was a bit disappointed in the ending. Stories that begin a series are to leave some questions unanswered, but I found a bit too many unanswered for my taste. I will be looking forward to the sequel in hopes that more is resolved along the way. 
— Katlin Kerrison
Description
---
Raise. Your. Phantom.

In a world on the brink of the next Great Dying, no amount of training can prepare us for what is to come.

A young heir will raise the most powerful phantom in all of Baiseen.
A dangerous High Savant will do anything to control the nine realms.
A mysterious and deadly Mar race will steal children into the sea.
And a handsome guide with far too many secrets will make me fall in love.

My name is Ash. A lowly scribe meant to observe and record. And yet I might be destined to surprise us all...

The Amassia series is best enjoyed in order.
Reading Order:
Book #1 Crown of Bones
Book #2 Curse of Shadows
About the Author
---
A. K. Wilder is an established fantasy writer under the name Kim Falconer. Born on the Wilder Ranch in California, she now lives on the far east coast of Australia. She is an astrologer and tarot reader, like her father before her, and holds multiple degrees, from horseshoeing, herbal medicine, and veterinary nursing, to a masters degree in writing. Storytelling is her first love, with passions for reading, organic gardening, yoga, Spanish guitar, meditation, weight training, and the sea. Her writing is done in the early hours of the morning, when the dragons are still asleep. akwilder.com