You are here
Dry County: A Novel (Hardcover)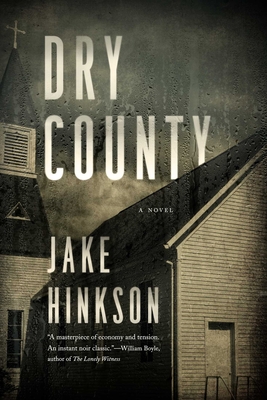 Description
---
A dark vision of American religion and politics, Dry County is a portrait of a man willing to do anything to hold on to his power—including murder.

Richard Weatherford is a successful small-town preacher in the Arkansas Ozarks. He's a proud husband and father of five, and has worked hard to grow his loyal flock with strong sermons and smart community outreach. But while Weatherford is a man of influence and power—including a big force in local politics—he's also a man with secrets.

In the lead up to the 2016 presidential election, Weatherford's world is threatened when he's blackmailed by a former lover. Collecting the money the blackmailer demands will be a nearly impossible feat, especially over Easter weekend, when all eyes are on him. So Weatherford will have to turn to the darkest corners of their small town in a desperate attempt to keep his world from falling apart.

Exploring a divided country and a cracked façade through the alternating perspectives of Weatherford, his wife, his lover, and other town residents, Dry County is a powerful story about how far some will go to keep hold of all they know—and all that others think them to be.
About the Author
---
Jake Hinkson received an MFA in Creative Writing from UNC-Wilmington. His novel Hell on Church Street was awarded the French Prix Mystère de la Critique in 2016, and No Tomorrow was awarded the Grand Prix des Littératures Policières in 2018. He now lives in Chicago, where he teaches creative writing at the Chicago Academy for the Arts.
Praise For…
---
"Dry County packs a wallop in the inaugural chapter and doesn't pull punches throughout. The story is relatable, compelling, and possesses an emotional intensity that will resonate with the reader well after the words have been consumed."
— Seattle Book Review

"Dry County will hopefully earn Jake Hinkson the fanbase he deserves. He's subtle in his preciseness, revealing an evil that doesn't seem so threatening at first glance. By the time we've reached that last line, we've stared straight in the eye, and maybe chuckled."
— MysteryPeople (Pick of the Month)

"Set against the backdrop of the 2016 election, Hinkson's darkly satirical take on power and hypocrisy closes with a shocking but fitting twist."
— Booklist

"Set in rural Arkansas, this unapologetically bleak noir explores the effects of existential and spiritual despair in an economically depressed town where the influence of religious fundamentalism is stifling. Powered by raw emotional intensity and a disturbingly realistic portrayal of small-town America, this story is unforgettable."
— Publishers Weekly (starred)

"As the principals take turns plotting their next moves, things predictably spiral out of control with all the horrifyingly matter-of-fact force of Scott Smith's parable A Simple Plan as Hinkson leads his all-too-human hero step by step into a monstrous pool of corruption. The whole sad carnival comes crashing to an unforgettable halt."
— Kirkus Reviews

"Dry County is a hillbilly noir jewel. Jake Hinkson reveals the underbelly of small town life in this gritty thriller as he depicts the fall of a Southern preacher. An absorbing tale."
— Nancy Allen, New York Times bestselling author

"Jake Hinkson's Dry County breathlessly propels readers through the noir landscape of small-town Arkansas, laying bare its hypocrisies and baser impulses. Imagine Breaking Bad's Walter White as the pastor of a Baptist Church; Hinkson's Brother Weatherford's fall is as far, as dark, and as deep."
— John Copenhaver, author of Dodging and Burning

"From its gripping first pages, the reader knows he or she is in the hands of an expert storyteller. Dry County is a dark, noir-ish tale that weaves religion, politics, family betrayals, and violence, all centered around the forgotten small towns of rural Arkansas. Jake Hinkson spins a story that just holds onto you and doesn't let go. Highly recommended."
— Brendan DuBois, three-time Shamus Award winner and bestselling author

"A day in a small town with big secrets is the setting for this perfect storm of a book. Jake Hinkson takes the reader on a white-knuckle ride in a world where good people have done bad things. I couldn't put it down."
— Aoife Clifford, author of All These Perfect Strangers and Second Sight

"Desire, desperation, and despair collide in Jake Hinkson's bleakly imagined and perfectly rendered vision of small-town Arkansas. Religion, respectability, hope for the future—virtue is the flip side of vice and Hinkson drives that truth sharply home. "
— S. J. Rozan, bestselling author of Ghost Hero