You are here
Never Turn Back: A Novel (A Faulkner Family Thriller #1) (Hardcover)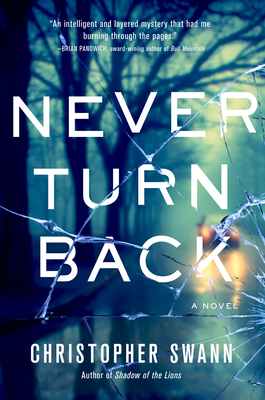 $26.99
Email or call for price
Other Books in Series
This is book number 1 in the A Faulkner Family Thriller series.
Description
---
ONE OF AMAZON'S BEST BOOKS OF OCTOBER 2020!
FINALIST, 2020 GEORGIA AUTHOR OF THE YEAR AWARDS
 
Linwood Barclay meets Michael Farris Smith in this Southern-set domestic thriller about family, vengeance, and atonement from critically acclaimed Southern mystery novelist Christopher Swann.

The bonds of family never truly let go.

In fact, its grip only tightens the further you try to run: crushing and crippling.

Ethan Faulkner is a precocious child with a brilliant but troublesome sister, a war vet for a father, and a weary mother trying to manage their family. One night a young woman rings their doorbell, desperate to hide from two men who are pursuing her, when one of the two barges in after her. The struggle leaves both of Ethan's parents dead.

Years later, Ethan has a successful teaching career and a budding relationship with a coworker. But he hasn't quite followed through on his promise to his dying father--to take care of his sister. Susannah is not an easy person to keep tabs on, is a handful even when the tabs are kept, and quite frankly, Ethan wants her to suffer for preventing him from getting to his dad before he died all those years ago.

It was a long time ago and Ethan tries to put all of it behind him. But that's easier said than done. When news of a brutal murder breaks with evidence pointing to Ethan as the prime suspect, all the painful memories of his past come rushing to meet him. Lyrically conveyed with emotion and nuance, Never Turn Back is a powerful story about family, vengeance, and how some actions echo through the years with irreparable consequences.
About the Author
---
Christopher Swann is a graduate of Woodberry Forest School in Virginia. He earned a B.A. in English from Washington and Lee University, an M.A. in English and creative writing from the University of Missouri-Columbia, and a Ph.D. in creative writing from Georgia State University. He lives with his wife and two sons in Atlanta, where he is the English department chair at Holy Innocents' Episcopal School. Shadow of the Lions, published in 2017 by Algonquin, was his debut novel.
Praise For…
---
ONE OF AMAZON'S BEST BOOKS OF OCTOBER 2020!
FINALIST, 2020 GEORGIA AUTHOR OF THE YEAR AWARDS

Praise for Never Turn Back:
"With gorgeous, spare writing, Swann lets this story unfold, one dark step at a time. As the secrets unspool, we're drawn into a twisty, hardboiled, noir-style story of the dark side of family. But the author never lets his hero get too tough or bullet-proof. There's a beating heart of vulnerability under everything that happens as Ethan Faulkner digs up the bloody past."
—Emily Carpenter, Georgia Author of the Year Awards, Judge 

"An extraordinarily compulsive read…Swann's writing packs a huge emotional wallop and delivers a breathtaking ending."
—Booklist starred review

"Swann presents a greased-lightning take on the hellish fury of a woman scorned…A wild, compelling ride from beginning to end."
—Kirkus Reviews

"Fans of literary crime fiction will want to take a look at this thoughtful outing."
—Publishers Weekly

"Page-turning suspense...[for] fans of Harlan Coben and Linwood Barclay."
—Library Journal

"Swann has gifted us with a quiet bombshell...Never Turn Back is a perfect wake-up call if you are stuck in the reading doldrums."
—Bookreporter

"Swann is a master of the kind of narrative storytelling style that artfully conveys both emotion and nuance."
—Midwest Book Review

"Full of emotion and drama...The characters are deep and nuanced."
—Manhattan Book Review

"A wonderfully unusual, utterly unpredictable twist of a puzzle with an edge…Its intelligent dynamic is breathtaking, its smooth pacing is flawless. A contemporary novel that tips its hat to multiple genres, Never Turn Back is intriguing, high-stakes fiction."
—New York Journal of Books

"The past comes back—with a vengeance—to bite a good-hearted teacher and his brash, broken sister in Swann's excellent latest. I loved this twisty, sexy, fast-paced thriller."
—Joshilyn Jackson, New York Times bestselling author of Never Have I Ever

"Christopher Swann never disappoints. Swann's unmistakable voice catapults this suspenseful story to the finish line, one dark secret at a time. A must-read."
—J. T. Ellison, New York Times bestselling author of Good Girls Lie

"An intelligent and layered mystery that had me burning through the pages. The balance of darkness and redemption without losing a bit of the tightrope tension is a skill most writers achieve only after an entire career."
—Brian Panowich, award-winning author of Bull Mountain

"Christopher Swann understands the dread that an incidental glance, a casual comment, silence between two characters can conjure. And it's with this delicate but sure touch that he tells the story of a man trying to make sense of his violent past and prevent it from destroying the new life he's built."
—Emily Carpenter, bestselling author of Until the Day I Die