You are here
The Sourdough Whisperer: The Secrets to No-Fail Baking with Epic Results (Paperback)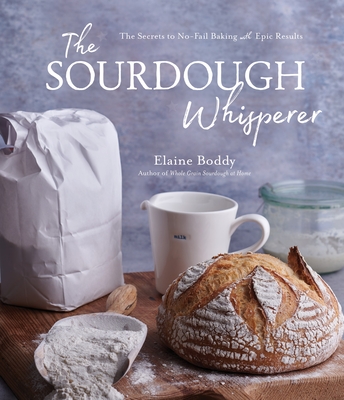 Description
---
All Your Sourdough Questions Answered Plus 40 Endlessly Versatile Recipes

In the sourdough world, where recipes and methods can get really complicated really fast, Elaine Boddy keeps it simple. This all-in-one handbook shares her best tips, tricks and troubleshooting tools for showstopping sourdough success. With practical solutions to every obstacle—whether it's a busy schedule, slow-to-grow starter or overproofed dough—Elaine proves that everyone can bake beautiful, delicious sourdough with confidence.

Once you've got a handle on all things starter, dough and timing, dive into baking with 40 delicious recipes. Learn to use your starter in dozens of different ways, from buttery jam-filled rolls to crusty seed-studded loaves. Try foolproof formulas for ciabatta, baguettes and pizza, and enjoy flavorful creations like Turmeric and Onion Seed Sandwich Loaf or Apricot and Almond Babka Loaf.

Elaine's practical approach shows how you can manipulate a few simple master recipes to create any kind of shaped, filled or seeded bread you wish. Gorgeous photography with every recipe means inspiration for your next loaf is only ever a page-turn away. Allow Elaine to guide your sourdough journey, and, along the way, you can even become your very own sourdough whisperer.
About the Author
---
Elaine Boddy is the author of The Sourdough Whisperer and Whole Grain Sourdough at Home, as well as the founder of foodbod Sourdough. She virtually teaches home bakers all over the world how to make sourdough. Elaine lives with her family in Milton Keynes, England.
Praise For…
---
"Elaine's passion for supporting home bakers is remarkable. She has been an inspiration to home baking communities across every continent. I know you will enjoy this book." - Bertie Matthews, managing director, Matthews Cotswold Flour

"Elaine has a sourdough superpower: Her knowledge is inexhaustible and she is so generous in sharing it. Any book she writes is one to fast-track onto your bookshelf." - Karen Barnes, editor, delicious. magazine

"Sourdough baking is approachable, accessible and achievable thanks to this guide. Elaine has helped me to troubleshoot my sourdough challenges and bake picture- perfect loaves confidently and with ease." - Angela Ferraro-Fanning, author of the Little Homesteaders book series