You are here
Buffy the Vampire Slayer Legacy Edition Book Two (Paperback)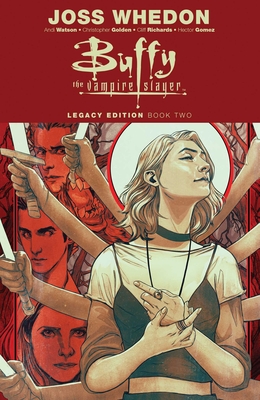 $29.99

Usually Ships in 1-5 Days
Description
---
The definitive collection of every Buffy the Vampire Slayer comic, for the first time presented in publication order, continues in this all-new volume.

THE OFFICIAL TIE-IN TO JOSS WHEDON'S AWARD-WINNING BUFFY THE VAMPIRE SLAYER TELEVISION SERIES!

Set during the third season of the Buffy The Vampire Slayer television series, discover the untold stories of the Scoobies during the most dangerous time ever - their final year at Sunnydale High! As if finals and the threat of further education weren't bad enough, Buffy & her friends will have to fight superpowered vampires and doppelgängers, all at the whim of the terrifying Big Bad Selke!

And let's not forget the homework.

Collects Buffy The Vampire Slayer #11-19 (Dark Horse Comics), as well as short stories from the era, including "Bad Dog," the first comic work by screenwriter/director and Buffy alum Douglas Petrie

Legacy Editions collect for the first time every issue of the most popular BOOM! Studios series in chronological order, in a newly designed, value priced format.
About the Author
---
Joseph Hill Whedon is an American film director, producer, writer, and composer. He is the founder of Mutant Enemy Productions, co-founder of Bellwether Pictures, and is best known as the creator of several television series. These include Buffy the Vampire Slayer (1997–2003), Angel (1999–2004), Firefly (2002), Dollhouse (2009–2010), and Agents of S.H.I.E.L.D. (2013–2020).

Whedon co-wrote for the Pixar animated film Toy Story (1995) (for which he was nominated for the Academy Award for Best Original Screenplay), wrote and directed the Firefly film continuation Serenity (2005), co-wrote and directed the Internet miniseries Dr. Horrible's Sing-Along Blog (2008), and co-wrote and produced the horror comedy film The Cabin in the Woods (2012). He wrote and directed the Marvel Cinematic Universe superhero films The Avengers (2012) and its sequel Avengers: Age of Ultron (2015), and also co-wrote the script for the DC Extended Universe superhero film Justice League (2017). He also served as director for Justice League on re-shoots, replacing Zack Snyder (who retained directorial credit).

Actors Ray Fisher, Charisma Carpenter, Michelle Trachtenberg and Amber Benson have complained publicly about Whedon's behavior on set. WarnerMedia investigated Fisher's allegations and announced that they had taken "remedial action" in December 2020.