You are here
The Storyteller's Death: A Novel (Paperback)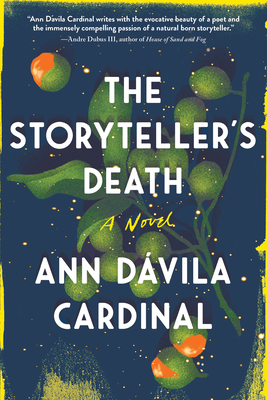 $16.99

Usually Ships in 1-5 Days
Description
---
International Latino Book Award Gold Medal Winner!
"A beautiful book about family, memories, and the power of stories." —BuzzFeed
"Mystical, masterful storytelling." —Ms. Magazine
A gorgeously written family saga about a Puerto Rican woman who finds herself gifted (or cursed?) with a strange ability.
There was always an old woman dying in the back room of her family's house when Isla was a child...
Isla Larsen Sanchez's life begins to unravel when her father passes away. Instead of being comforted at home in New Jersey, her mother starts leaving her in Puerto Rico with her grandmother and great-aunt each summer like a piece of forgotten luggage.
When Isla turns eighteen, her grandmother, a great storyteller, dies. It is then that Isla discovers she has a gift passed down through her family's cuentistas. The tales of dead family storytellers are brought back to life, replaying themselves over and over in front of her.
At first, Isla is enchanted by this connection to the Sanchez cuentistas. But when Isla has a vision of an old murder mystery, she realizes that if she can't solve it to make the loop end, these seemingly harmless stories could cost Isla her life.
BuzzFeed's 20 Highly Anticipated Thrillers of 2022
BookRiot's 15 Best New Mystery Books of 2022
Goodreads' Books to Read for Hispanic Heritage Month
Apartment Therapy's One Book to Read in October 2022
Paste Magazine's Best New Fantasy Books of October 2022
BuzzFeed's Best New Books of October 2022
BookRiot's Best New Mysteries, Thrillers, and True Crime of October 2022
CrimeReads' Most Anticipated Books of Fall 2022
The Nerd Daily's Most Anticipated Book Releases
SheReads' Best Sci-Fi & Fantasy Books Coming In 2022
Hasty Book List's Best Books of October
About the Author
---
Ann Dávila Cardinal is a novelist and Director of Recruitment for Vermont College of Fine Arts where she also earned her MFA in Writing. She comes from a long line of Puerto Rican writers, including father and son poets Virgilio and José Antonio Dávila, and her cousin, award-winning fiction writer Tere Dávila. Ann's first novel, Sister Chicas, was co-written with Jane Alberdeston Coralin and Lisa Alvarado, and was released from New American Library. Her next novel, a horror young adult work titled Five Midnights, was released by Tor Teen on June 4, 2019. The story continues in Category Five, also from Tor Teen, released on June 2, 2020. Ann lives in Vermont where she cycles, knits, and prepares for the zombie apocalypse.
Praise For…
---
BuzzFeed's 20 Highly Anticipated Thrillers of 2022
BookRiot's 15 Best New Mystery Books of 2022
Goodreads' Books to Read for Hispanic Heritage Month
Apartment Therapy's One Book to Read in October 2022
Paste Magazine's Best New Fantasy Books of October 2022
BuzzFeed's Best New Books of October 2022
BookRiot's Best New Mysteries, Thrillers, and True Crime of October 2022
CrimeReads' Most Anticipated Books of Fall 2022
The Nerd Daily's Most Anticipated Book Releases
SheReads' Best Sci-Fi & Fantasy Books Coming In 2022
Hasty Book List's Best Books of October
"Both haunting and touching…a rich, compelling tale perfect for spooky season. With the turn of each page, you peel back more layers of Isa's history while discovering more of Cardinal's masterful storytelling...a must-add to your October reading list." —
Apartment Therapy
"This is a beautiful book about family, memories, and the power of stories." —
BuzzFeed
"For fans of family sagas, magical realism, and mystery." —
BookRiot
"Wonderfully rich and layered. The multilayered twists intertwining Isla's more traditional coming-of-age journey with her discovery that she comes from a long line of cuentistas, or storytellers who experience visions, is well handled and evenly balanced." —
Paste Magazine
"If it's mystical, masterful storytelling you crave this month, you'll want to pick up award-winning writer Cardinal's latest, which explores themes of loss, blessings, ancestry and mystery." —
Ms. Magazine
"A stunning, magic-infused tale of family ties and secrets....Cardinal's storytelling prowess shines in this beautifully imagined and multilayered story, as do her fully developed characters. Fans of sweeping family sagas will enjoy every page." —
Publishers Weekly, STARRED review
"A great read for fans of stories set in the Caribbean and tales of magic, love, and family." —
Booklist, STARRED review
"A combination of magical realism, terror, and mystery, all wrapped in a shroud of family secrets and dubious honor...Toni Morrison fans will particularly enjoy the otherworld-tinged drama." —
First Clue
"So compelling, unique, and lyrically written, and everything about it was fabulous – the characters, the vivid setting, and the creative storyline. I felt like I visited Puerto Rico." —
The Buzz magazines
"In Ann Dávila Cardinal's
The Storyteller's Death
, nothing can stop the cuentistas in the Sánchez family from telling their stories, not even death. I found myself captivated by the young Isla Sánchez and enthralled by the secrets of Isla's ancestors. Like the Sánchez family, Cardinal is a gifted cuentista and
The Storyteller's Death
is a welcome addition to Puerto Rican storytelling."" —
Marisel Vera, author of The Taste of Sugar
"Ann Dávila Cardinal is back to captivate us with
The Storyteller's Death
, a striking novel about secrets so restless they're dangerous. Isla, the book's spirited protagonist, will endear herself to all of those who have stumbled upon those terrible truths that make our beloved families that much more complicated, flawed, and human." —
Rigoberto González, author and literary critic
"Ann Dávila Cardinal writes with the razored clarity of a surgeon, the spare and evocative beauty of a poet, and the immensely compelling passion of a natural born storyteller. I will gratefully read anything she writes!" —
Andre Dubus III, New York Times bestselling author of House of Sand and Fog