You are here
Everywhere She's Not (Paperback)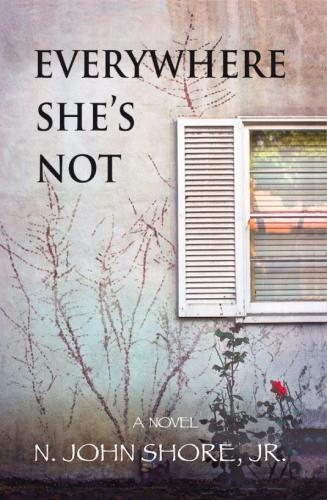 $16.00

Usually Ships in 1-5 Days
Description
---
David is a brilliant young man living alone in an old seaside motel in San Francisco in 1979.

He has just destroyed the life that he and his live-in girlfriend Kate spent two years building together.

He has no idea why he did the terrible thing he did. All he knows is that he's appalled he did it, and desperately wants Kate back.

Fat chance. Kate, who loves David, is many things. Stupid isn't one of them.

Everywhere She's Not is about crazy-making, mind-boggling, gut-wrenching love. It's about how ultimately rewarding it can be to keep hoping, even when you know there's no hope at all.

It's about passing through locked motel doors, travel brochures for ax-murderers, Cornish game hens playing lawn darts.

It's about helping your best friend, who is gay, pretend that he isn't gay, so that his ex-wife won't take away his child visitation rights.

It's about David Allen Finch finally facing the truth of who his family is, and what they've made him become--and what, if anything, he can do about that.
About the Author
---
N. John Shore, Jr. is a long-time magazine and newspaper writer who has edited and ghostwritten several fiction and non-fiction bestselling books. In 2014, in order to start writing Everywhere She's Not, he put on hiatus his personal blog, which since 2007 had been among the most read blogs in the country (receiving upwards of 300,000 views a month). From April 2016 to November 2017 he penned, for the Asheville Citizen-Times, Ashes to Asheville, the first real-time weekly serial novel ever published on the website of a major daily newspaper. With the conclusion of Ashes he started writing for the Citizen-Times his popular advice column, "Ask John." He has published fifteen short stories in little literary magazines across the country. Everywhere She's Not is his first (non-serialized) novel.
Praise For…
---
"Shore's territory is the daily, personal challenges of how we live. He traces the very real, very emotional lives of ordinary people who are just trying to keep up--with, often, their own hearts." — Bruce Steele, The Asheville Citizen-Times



"John Shore is a remarkably gifted writer who knows exactly what he is doing." — Jacquelyn Mitchard, bestselling author of The Deep End of the Ocean (the inaugural novel of Oprah's Book Club), and Two If By Sea.



"N. John Shore, Jr., the legitimate son of Kurt Vonnegut and Dave Barry, writes with great energy and humor." — Richard Lederer, Anguished English; The Miracle of Language



"John Shore's unique style is a delight to read--a literary feast!" — Michael Flachmann, author of Beware the Cat: The First English Novel



"What a funny, bright writer this man is!" -- Judy Reeves, A Writer's Book of Days; Wild Women, Wild Voices



"N. John Shore, Jr. is one of those rare writers who can make people laugh and think at the same time." -- Richard Louv, author of international bestseller, Last Child in the Woods