You are here
Tarzan of the Apes (100 Copy Collector's Edition) (Hardcover)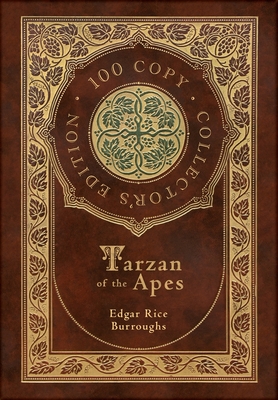 $71.00
Email or call for price
Description
---
Tarzan of the Apes opens when Lord and Lady Greystoke are marooned on the western coastal jungles of Africa. One year later, Lady Greystoke gives birth to a son. When the baby turns one, his parents both die, and he is adopted by apes who name the boy Tarzan. What follows is a struggle as Tarzan learns to live among the apes, and in doing so, keeps them safe from local tribes. When a new English party is marooned on the coast, Tarzan comes face to face with his past, and is forced to find his true identity.
Tarzan has been called one of the best-known literary characters in the world. In addition to literature, the character has appeared in films, radio, television, comic strips, and comic books. Burroughs considered other names for the character, including "Zantar" and "Tublat Zan," before he settled on "Tarzan. Tarzan has remained popular; Burroughs's melodramatic situations and the elaborate details he works into his fictional world, such as his construction of a partial language for his great apes, appeal to a worldwide fan base. Tarzan remains one of the most successful fictional characters to this day and is a cultural icon.
This cloth-bound book includes a Victorian inspired dust-jacket, and is limited to 100 copies.