You are here
Sheet Pan Cookbook: Delicious No-Fuss Recipes for Quick & Easy One-Pan Meals (Hardcover)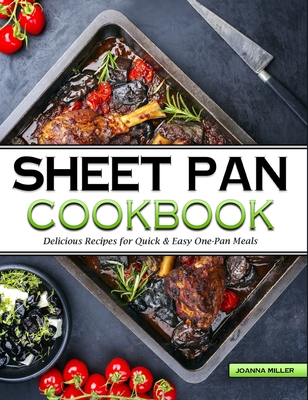 $24.99

Usually Ships in 1-5 Days
Description
---
Quick & Delicious Sheet Pan Meals Made Simple for Busy Home Cooks
Do you often find yourself too short on time to make a wholesome home cooked meal?
Are you getting tired of complicated recipes using way to many ingredients, fancy equipment and advanced cooking methods?
Then The Sheet Pan Cookbook is perfect for you
Packed full of mouthwatering recipes that cook themselves in no time, with the use of just one pan.
Simply add your ingredients to your trusty sheet pan, stick it in your oven and voil A gourmet home cooked meal in no time
Discover the secrets of hands-off sheet pan cooking and bring out the best in your meats and vegetables while supercharging their flavor.
Here's what's included in The Sheet Pan Cookbook:
✓ Sheet Pan Basics -- Expert tips for buying and caring for sheet pans and learn how you can use them to create complete meals―no matter what your experience level.
✓ Hundreds of Flavorful Recipes -- Savor a wide variety of healthy recipes from vegetarian to seafood, poultry, meats and even desserts Inspired by international flavors, there's no chance of getting bored from bland, flavorless dishes.
✓ Kitchen Tested -- every recipe in this book has been tried, tested and tweaked to perfection to make sure you get the tastiest and most delicious result every time, all with minimal effort
✓ 45 minutes or less -- Get a wholesome meal on the table fast with many recipes that take 45 minutes from beginning to end―some ready in 30 minutes flat.
Here is a sneak peak of the mouthwatering recipes:
Roasted Chickpeas with Ranch Coating
Spicy Shrimp on Bamboo Skewers
Gorgonzola Pizza with BBQ Chicken
Slow Roasted Pistacia Vera Lamb
Salisbury Lamb Steak with Zesty Pate
Shredded Pork Buns
Mediterranean Baked Bass Filets
Spicy Chicken with Bacon Spinach
Cinnamon Crumbled Coffee Sponge
Toasted Pecan Marshmallow Cake
Chocolate Chip Peanut Butter Squares
Asian Five-Spice Chicken
Get ready to enjoy tasty, nourishing meals for your whole family on the busiest of days - with minimal time and effort
Scroll to the top of this page and and hit that "BUY" button now while this book is at this super-low launch price