---
Sarah's Book Store Staff Picks
---
The Mysterious Benedict Society
The ad in the newspaper says, "Are you a gifted child looking for special opportunities?" Reynie, an orphan, decides that he is, and persuades the orphanage director to let him take the test. Along with three other children who pass, Reynie meets the mysterious Mr. Benedict, a narcoleptic who lives behind a maze and who has an important mission for the children. They're sent to a boarding school on an island, The Learning Institute for the Very Enlightened, to find out all they can about the school's director, Ledroptha Curtain. Posing as students, they discover his plan to take over the world using mind control. But in Curtain's carefully controlled island fortress, stopping him seems impossible, even for four very gifted children.Think Lemony Snickett meets Blue Baillett. This is the first of four in the series--and the adventure is only just beginning!
We Will Be Shelter: Poems for Survival
We Will be Shelter, edited by poet and activist Andrea Gibson, is an anthology of contemporary poems that addresses issues of social justice. Unique to this anthology is its focus on creating positive social change through gorgeous, gusty poetry. Alongside and embedded in featured poems are concrete ways to address social and political issues raised. The goal of We Will be Shelter is to raise awareness, encourage critical self-reflection, and call readers to action.
---
Deanna's Book Store Staff Picks
---
American Royals by Katherine McGee
American Royals has the juiciness of Gossip Girl with the excitement of Princess Diaries. Imagine if America after the Revolution has Kings and Queens instead of presidents; Princess Beatrice is next in line to become Queen of America. Her sister Samantha is fine with not being second in line so she can do whatever she wants and her twin brother Jefferey has the attention of enemies Daphne and Nina.
This story was a great alternate history story. Who hadn't ever wondered what it would've been like if George Washington had decided to be king instead of president? Fans of Gossip Girl, Princess Diaries, and the Luxe will enjoy this new YA classic.
Hello Girls by Brittany Cavallaro and Emily Henry
Winona has been starving for life in the seemingly perfect home that she shares with her seemingly perfect father, celebrity weatherman Stormy Olsen. No one knows that he locks the pantry door to control her eating and leaves bruises where no one can see them.
Lucille has been suffocating beneath the needs of her mother and her drug-dealing brother, wondering if there's more out there for her than disappearing waitress tips and a lifetime of barely getting by.
One harrowing night, Winona and Lucille realize they can't wait until graduation to start their new lives. They need out. Now. One hour later, they're armed with a plan that will take them from their small Michigan town to Chicago. All they need is three grand, fast. And really, a stolen convertible can't hurt. Chased by the oppression, toxicity, and powerlessness that has held them down, Winona and Lucille must reclaim their strength if they are going to make their daring escape—and get away with it.
Nannette's Book Store Staff Picks
---
Know My Name by Chanel Miller
In this powerful memoir, Chanel Miller, the infamous Jane Doe who Brock Turner raped with little consequences from the judicial system, tells her story. Her words ring heartbreakingly true and resilient in Know My Name. "The saddest things about these cases, beyond the crimes themselves, are the degrading things the victim begins to believe about her being. My hope is to undo these beliefs. I say her, but whether you are a man, transgender, gender-nonconforming, however you choose to identify and exist in this world, if your life has been touched by sexual violence, I seek to protect you. And to the ones who lifted me, day by day, out of darkness, I hope to say thank you." - Chanel Miller
The Nickel Boys by Colson Whitehead
If you only read ONE book this year, it should be The Nickel Boys. This novel is full of heart, painful truths, and stunning writing that is all rooted in historical realities. From the prologue to the twisting ending, you will be caught in the whirwind injustice that occurs at a Jim Crow-era reform school. After main character Elwood attempts to hitchhike to college, where he has been accepted for classes due to his academic success, he finds himself at Nickel Academy. Whitehead successfully shows that success cannot simply surmount the deep rooted effects of racism.
Mountains Beyond Mountains by Tracy Kidder
Mountains Beyond Mountains is the latest book club pick for Life's Library, author John Green's virtual book club. If the news ever has you losing faith in humanity, this book about Paul Farmer, the founder of Partners In Health, will restore your faith. You will fall in love with Paul Farmer and his team's passion for providing the world with the health care they need and deserve. As a member of Life's Library, I got to see a live interview of Paul Farmer and the PIH team, and I can say he is just as genuine and caring as Tracy Kidder portrays him.
---
Katlin's Book Store Staff Picks
---
Serpent & Dove by Shelby Mahurin
Confession: I'm obssessed with this book and have been since they revealed the cover earlier this year. Witches, witch hunters, and arranged marriages, oh my! I was gifted an ARC of this title from HarperCollins and I am so THANKFUL! It was amazing.
Louise "Lou" Le Blanc fled her life of witchery because of a secret when she runs into the witch hunter, Reid. Reid sees the world in black and white, good and evil, witches and the rest of the mortals, even though the rumor is that everyone once lived in harmony. This book is sweepingly romantic and darkly magical. If you love hate to romance stories and dark magic, this story is for you! I adored it!
A Curse So Dark and Lonely by Brigid Kemmerer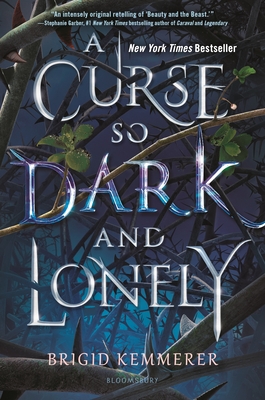 Wow. I just have no words for this retelling. Now I will admit, I enjoy fairy tale retellings in general, but this one is completely different than any other I've read. Let's start with Harper, the protagonist. She is fiery but has so much heart. I found it refreshingly different that she figured out the curse immediately. I like a protagonist that's smart, one that I don't have to internally scream at the entire time. But honestly, I loved all the characters, I loved Rhen and Grey, and really everyone I met. Even the evil foreign Queen was fun and intriguing. I can't wait for January when the next book in the series arrives!
---
Helen's Book Store Staff Picks
This book is the biography of Anne Lister, a land owner and industrialist in the early 1800's who defied convention and lived a bold life in a man dominated world. The book is taken from her actual diaries found hidden in the paneled wall of Shibden Hall, her inerited family estate, in West Yorkshire, England. Much of the diaries were written in secret code that was deciphered years later. It is a fascinating portrait of a bold, adventurous woman who lived on her own terms.
Frances Mayes who thrilled readers with Under the Tuscan Sun writes a memoir of her childhood and coming of age in Fitzgerald, Georgia. It is a deeply personal and sensory depiction of her life in the South that shaped her spirit and gave her the wings to leave and travel the world. The portrait of her complicated family, especially her mother, Frankye, and maid, Willie Bell, were compelling to me and helped me relish the important, beautiful women in my younger life.