---
Sarah's Book Store Staff Picks
---
Magic of Liars by Sarah Gailey
In
Magic For Liars by Sarah Gailey
, the reader is sucked into a world of magic and mystery. There has been an untimley death of an insturctor at The Osthorne Academy of Young Mages, detective Ivy Gamble is called to check things out. Ivy's estranged sister Tabitha is turns out to be the instructor of Theoretical Magic at the Academy. When the two are reuinted over the murder, Ivy is pulled into Tabitha's world of secrets, power, and mistrust. Can Ivy solve this crime, reconnect with her very different sister Tabitha, and still remain true to herself? This is a great read for anyone who enjoys themes of magic, sisterly bonds, mystery and crime. It's an addicting debut that will keep suggsting, "just one more chapter...".
Pet-tecture by Phaidon Publishing
Pet
-Tecture
is such a fun book! Inside are various images of pets, living, hanging out, and doing fun things inside of amazingly designed pet structures. Explore the lavish homes of dogs. Reimagine the basic design of a chicken coop. Witness cats lounging instructures that push physics to it's limit. This makes a great coffe-table book for artists and designers alike. I love to use it to find inspirations in shape, color, and form.
---
Deanna's Book Store Staff Picks
---
The Boys' Club by Erica Katz
Alex Vogel has always been a high achiever who lived her life by the book—star student and athlete in high school, prelaw whiz in college, Harvard Law School degree. Accepting a dream offer at the prestigious Manhattan law firm of Klasko & Fitch, she promises her sweet and supportive longtime boyfriend that the job won't change her.
Yet Alex is seduced by the firm's money and energy . . . and by her cocksure male colleagues, who quickly take notice of the new girl. She's never felt so confident and powerful—even the innuendo-laced banter with clients feels fun. In the firm's most profitable and competitive division, Mergers and Acquisitions, Alex works around the clock, racking up billable hours and entertaining clients late into the evening. While the job is punishing, it has its perks, like a weekend trip to Miami, a ride in a client's private jet, and more expense-account meals than she can count.
But as her clients' expectations and demands on her increase, and Alex finds herself magnetically drawn to a handsome coworker despite her loving relationship at home, she begins to question everything—including herself. She knows the corporate world isn't black and white, and that to reach the top means playing by different rules. But who made those rules? And what if the system rigged so that women can't win, anyway?
You Had Me at Hola by Alexis Daria
Leading Ladies do not end up on tabloid covers.
After a messy public breakup, soap opera darling Jasmine Lin Rodriguez finds her face splashed across the tabloids. When she returns to her hometown of New York City to film the starring role in a bilingual romantic comedy for the number one streaming service in the country, Jasmine figures her new "Leading Lady Plan" should be easy enough to follow—until a casting shake-up pairs her with telenovela hunk Ashton Suárez.
Leading Ladies don't need a man to be happy.
After his last telenovela character was killed off, Ashton is worried his career is dead as well. Joining this new cast as a last-minute addition will give him the chance to show off his acting chops to American audiences and ping the radar of Hollywood casting agents. To make it work, he'll need to generate smoking-hot on-screen chemistry with Jasmine. Easier said than done, especially when a disastrous first impression smothers the embers of whatever sexual heat they might have had.
Leading Ladies do not rebound with their new costars.
With their careers on the line, Jasmine and Ashton agree to rehearse in private. But rehearsal leads to kissing, and kissing leads to a behind-the-scenes romance worthy of a soap opera. While their on-screen performance improves, the media spotlight on Jasmine soon threatens to destroy her new image and expose Ashton's most closely guarded secret.
---
Nannette's Book Store Staff Picks
---
See No Stranger: A Memoir and Manifesto of Revolutionary Love by Valarie Kaur
See No Stranger has quickly become one of my favorite books of all time. It will be one of the most important memoirs you'll ever read. Valarie Kaur is a Southeast Asian American woman sharing the ways in which her life has been changed by revolutionary love and how we can all incorporate it to love each other, our opponents, and ourselves. As a Sikh woman, she believes in the power of the sage warrior-- a revolutionary of the acts of love. Kaur blurs the lines between personal narrative and self help to create a book of love for all.
A Girl is a Body of Water by Jennifer Nansubuga
A Girl is a Body of Water is everything you want in a fiction book to curl up with on a fall night. Its magic and humor will keep you entertained while perspectives on gender and colorism give it meaning. I've loved every second of reading this novel, and I think you will fall in love with it too.
Transcendent Kingdom by Yaa Gyasi
With a combination of nerdy neuroscience, family drama, and coming of age, Transcendent Kingdom easily became one of my favorite fiction books. Yaa Gyasi's writing is stunning and compellling, pulling you into the world of main character Gifty, who is looking to neuroscience to understand her brother's addiction. With immigrant parents from Ghana and raised in Alabama, Gifty grows up with a mixture of religion and her mother's culture. After her father moves back to Ghana, Gifty must face what it means as her family goes from four to two.
---
Katlin's Book Store Staff Picks
---
WinterWood by Shea Ernshaw
Nora Walker is rumored to be a witch, but only rumors as she is afraid that the magic that's been at home in her family for so many generations might've skipped her all together. Despite this, she has a special connection to the Wicker Woods, the deepest part of the forest that even the locals who don't believe know not to go through. It's this special connection that helps her find the lost boy, Oliver Huntsmen.
Robert Frost's poem "The woods" would've been a perfect intro to this story because it encapsulates it perfectly. The prose is absolutely beautiful and the story had me at the edge of my seat the entire time. I read this in only two hours! I fell in love with the Winter Woods and wanted to be a part of the Walker family by the end of the novel. Pick this up if you love magical forests that are lovely, dark, and deep, ones that keep you going miles before you sleep.
The Beautiful by Renee Ahdieh
Celine ran away to New Orleans to get away from her sins in Paris only to find that there was more darkness than she could ever imagine.
I am SO pumped for this book. Bring back vampires! Bring back dark and sultry demons and demonesses of the night that seduce you in the light of the moon. I read this book in a day and was sad every time I had to put it down. I cannot wait for the sequel, this was a fantastic story and I loved the delicious heat of New Orleans. I can't wait for the next volume to be released in June!
---
Helen's Book Store Staff Picks
Furious Hours by Casey Cep (Murder, Fraud, and The Last Trial of Harper Lee)
A fascinating read with exceptional writing. It's hard to believe that this is Cep's first book. The true story of the events preceding and the trial of an infamous Alabama preacher, Reverend Willie Maxwell, make for a real page-turner. The fact that Harper Lee attended the trial, hoping to write her own account of this is icing.
The Nature of Remains by Ginger Eager
This debut novel by Decatur author, Ginger Eager, is a fabulous read about a strong woman, Doreen Swilley, who decides late in life to become the architect of her future and protect those she loves. Buried secrets, family strife, controlling men all make this a rich and involved story. Ginger visited our bookstore and talked about the book and her writing process. She was such a lovely person. I can't wait to see what she doesn next.
A portion of the proceeds of The Nature of Remains will be donated to Circle of Love, a shelter for victims of domestic abuse in Greensboro, Georgia.
---
Amanda's Book Store Staff Picks
Little Fires Everywhere by Celeste Ng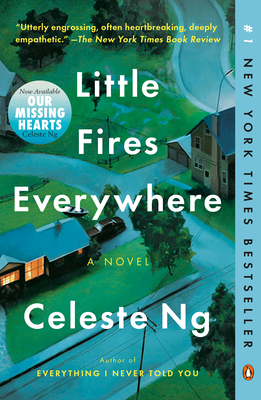 "In Shaker Heights, a placid, progressive suburb of Cleveland, everything is planned—from the layout of the winding roads, to the colors of the houses, to the successful lives its residents will go on to lead. And no one embodies this spirit more than Elena Richardson, whose guiding principle is playing by the rules.

Enter Mia Warren—an enigmatic artist and single mother—who arrives in this idyllic bubble with her teenaged daughter Pearl, and rents a house from the Richardsons. Soon Mia and Pearl become more than tenants: all four Richardson children are drawn to the mother-daughter pair. But Mia carries with her a mysterious past and a disregard for the status quo that threatens to upend this carefully ordered community.

When old family friends of the Richardsons attempt to adopt a Chinese-American baby, a custody battle erupts that dramatically divides the town—and puts Mia and Elena on opposing sides. Suspicious of Mia and her motives, Elena is determined to uncover the secrets in Mia's past. But her obsession will come at unexpected and devastating costs.

Little Fires Everywhere explores the weight of secrets, the nature of art and identity, and the ferocious pull of motherhood—and the danger of believing that following the rules can avert disaster."
This is such a great book. I finally got the chance to read, and I was blown away. I was so drawn in by Mia, I felt sympathy for the Richardsons. I now can't wait to watch the series to see it adapted.
All Adults Here by Emma Straub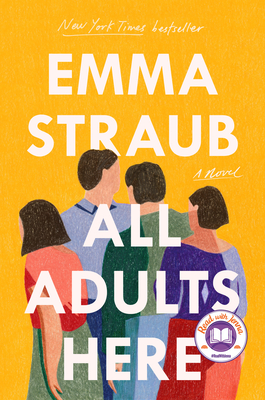 "When Astrid Strick witnesses a school bus accident in the center of town, it jostles loose a repressed memory from her young parenting days decades earlier. Suddenly, Astrid realizes she was not quite the parent she thought she'd been to her three, now-grown children. But to what consequence?

Astrid's youngest son is drifting and unfocused, making parenting mistakes of his own. Her daughter is pregnant yet struggling to give up her own adolescence. And her eldest seems to measure his adult life according to standards no one else shares. But who gets to decide, so many years later, which long-ago lapses were the ones that mattered? Who decides which apologies really count? It might be that only Astrid's thirteen-year-old granddaughter and her new friend really understand the courage it takes to tell the truth to the people you love the most.

In All Adults Here, Emma Straub's unique alchemy of wisdom, humor, and insight come together in a deeply satisfying story about adult siblings, aging parents, high school boyfriends, middle school mean girls, the lifelong effects of birth order, and all the other things that follow us into adulthood, whether we like them to or not."
Family dramas always draw me in. Emma Straub crafted this novel with such heart. I adored the Strick matriarch and siblings so much-they were all relateable, and had such warmth.
Beach Read by Emily Henry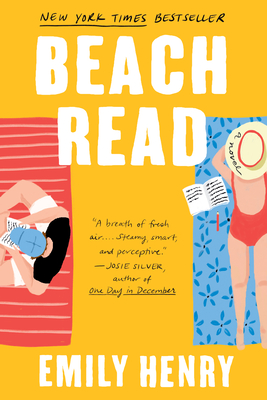 "A romance writer who no longer believes in love and a literary writer stuck in a rut engage in a summer-long challenge that may just upend everything they believe about happily ever afters.

Augustus Everett is an acclaimed author of literary fiction. January Andrews writes bestselling romance. When she pens a happily ever after, he kills off his entire cast.

They're polar opposites.

In fact, the only thing they have in common is that for the next three months, they're living in neighboring beach houses, broke, and bogged down with writer's block.

Until, one hazy evening, one thing leads to another and they strike a deal designed to force them out of their creative ruts: Augustus will spend the summer writing something happy, and January will pen the next Great American Novel. She'll take him on field trips worthy of any rom-com montage, and he'll take her to interview surviving members of a backwoods death cult (obviously). Everyone will finish a book and no one will fall in love. Really."
Beach Read is a nice and easy summer read. The tension between Augustus and January is lovely. It was funny, and heartwarming without being sappy.
---
Mandolin's Book Store Staff Picks
Wicked Saints by Emily A. Duncan
Wicked Saints by Emily A. Duncan focuses on three enemies, who must put aside their differences to put a stop to a brutal war and an evil tyrant. Nadya, the last claric of Kalyazin, is very special. While all the clarics of the past could only speak to one of the Kalyazin gods, Nadya can speak to all of them. Everyone wants her to use her gifted powers to stop the war, but how is a whole other question. Serefin, the high prince of Tranavia, is one of the most powerful blood mages there is, besides the Vultures. Serefin's father is a horrible king and an even worse father. Ever since he was 16, Serefin was at the war front, fighting the great war. But now the king has called him back, and Serefin belives that it is to kill him for his power. Malachiasz is a monster. He is the most powerful blood mage there is, because he is a Vulture. Vultures are the monsters that when the last time they came to the war front, all of Kalyazin's clarics were wiped out. Malachiasz has ran away from who he was, and what he has done, but now he must find allies to right the wrongs of his past.
I Hunt Killers by Barry Lyga


I Hunt Killers by Barry Lyga is the story of a young teen just trying to make it throught high school. Which is pretty difficult on it's own, but Jazz is also the son of Billy Dent, the world's most infamous serila killer. Jazz has to struggle with the things he's witnessed, the things he's helped his father do, while trying to maintain a healthey façade to keep himself out of a foster home. However, things get even more challenging when bodies start showing up, mimicking his father's kills. Now Jasper must try to prove to the world that killing doesn't run in the family, before even more people start to die.
White Dragon by Leanne Marshall
White Dragon by Leanne Marshall is a story about two different races of people and dragons. There were once just regular people, and a race of brilliant, peaceful, White Dragons. Both followed the code of the Scroll of the Light. Untill one White Dragno and one person banded together to follow a horrid scroll: the Scroll of Darkness. They used the power it gave them to creat Dark Warriors, who's humanity was taken away, and Dark Dragons, who were everything the White Dragons were not. Together, the Lead Dark Warrior and Lead Dark Dragon laid siege to all the kingdoms of the land, spreading The Darkness which turned the kingdoms people into Dark Warriors, and slaughtered every last White Dragon they found.
Now only three kingdoms remain. The people are filled with terror at the thought of becoming a Dark Warrior, and their kings don't know what to do. All except King Pallidin of Castlewell, who has hope. Hope, in a anchient prophecy, that says a White Dragon, with a birthmark on his palm, will come to them, born with extrodinary power, and save them all.
And somewhere, deep undergrown, a Dark Dragon has just given birth to a small dragon, with brillient white fur, and pale blue eyes.
Yvonne's Book Store Staff Picks
---
I Hate Reading
How to Read When You'd Rather Not
By Beth Bacon
This book can take anyone who hates to read and have them laughing, reading, and enjoying every minute of it.

Grateful American: A Journey From Self to Service by Gary Sinese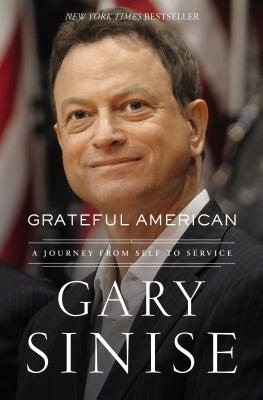 The Veteran's advocate tells his story from actor (Lt. Dan in Forest Gump) to activist, founding the Gary Sinese Foundation to honor and help thousands of American veterans.
Honey and Leonard are in the 70s and they are in love. When their kids get involved, the couple run away to Paris. Their whirlwind romance breaks the internet.
The Art of Her Deal by Mary Jordan
See behind the scenes of the life of Melania Knass Trump from the beginning in Slovenia, life as a model, becoming a U.S. citizen, to her relationship with her son, her parents, and the President.
"Only I know my story."-- Melania Trump